14 Jun 2022
Woolworths Lodges $147m Neutral Bay Tower Proposal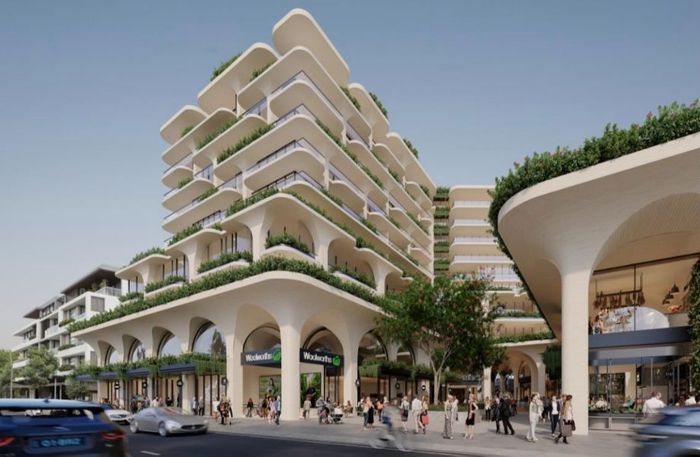 In Sydney's upscale Neutral Bay, a Koichi Takada-designed Woolworths supermarket makeover with up to nine stories of commercial space and apartments has been planned.
Woolworths' development arm Fabcot has filed concept drawings for the $147 million mixed-use complex with the North Sydney Council.
It would have a gross floor area of 19,218 square metres, with a "best in class" 3311 square metre full-service supermarket, 1846 square metres of retail space, 2103 square metres of office space, and 91 one, two, and three-bedroom apartments.
The ideas include a new public plaza and through-site link to "help activate the site and provide a new civic heart and focal point for Neutral Bay Town Centre."
It would be formed by lowering the supermarket to the underground, allowing for more open space above, and being activated by stores, restaurants, and cafes along the boundaries.
"The proposal will deliver a new generation mixed-use building including a subterranean supermarket, speciality retail and commercial floorspace to support new jobs [and] strengthen the local economy," the filed documents said.
"It will make a valuable contribution to the renewal and revitalisation of the Neutral Bay Town Centre and help catalyse further investment in the area."
The project will replace a single-story Woolworths grocery at 3-7 Rangers Road and a five-story office building at 50 Yeo Street, with underground parking for 350 automobiles.
The proposed building shape is influenced "by the naturally occuring landscape feature of Neutral Bay," according to a design statement submitted by Koichi Takada Architects.
"The gentle curves of the sandstone gully's and Angophora trees that have existed in Neutral Bay's natural context, inspired an architectural language that is organic, curved, and sophisticated.
"The natural facade ties into Neutral Bay's past and aims to invigorate Rangers Road with community facilities and public domain activation."
The site's western perimeter would be sleeved by a two-story podium that will serve as a "hub and create village feel with sufficient non-residential floorspace to generate interest and vibrancy."
According to the documents filed, the proposal was created with the built form outcomes adopted in the council's Neutral Bay Town Centre Future Directions Report in mind.
Woolworths said it has been unable to obtain a nearby site at 185 Military Road suitable for a higher-density construction "despite repeated attempts."
As a result, it had secured the site at 50 Yeo Street in order to construct a single block of land large enough to house a new town square and a full-service supermarket below ground.
"The massing and design outcome … has been required to be reconsidered to ensure that the future project is able to fund the desired public benefits including the new town square, through site link and streetscape improvements," the documents said.
"The proposal will capitalise on the site's size and strategic location at a prominent location within the Neutral Bay Town Centre."