14 Jun 2023
World's Tallest Hybrid Timber Tower Enters Next Development Phase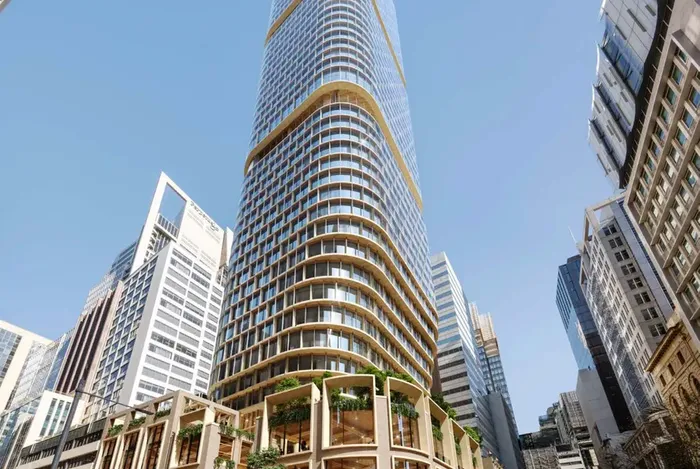 Milligan Group, the developer of a proposed skyscraper over Sydney's Hunter Street Station, has applied to demolish the site's current buildings as part of the project's next phase.
Located on the corner of Pitt and Hunter Streets in central Sydney, the planned 52-storey commercial office tower is set to become the world's tallest hybrid timber building. It will cover approximately 51,000 square metres and include retail tenancies within its podium. If approved, the project will surpass the under-construction Atlassian headquarters, designed by Shop Architects and BVN.
Initially outlined in 2022, proposals for the site received final endorsement from the Central Sydney Planning Committee in February 2023.
The design of the tower will be selected from a design competition, which started in May 2023, before being presented to the state government for approval.
The proposed tower will rise over the top of the new Hunter Street Station, part of the New South Wales government's $6.5 billion Sydney Metro West rail line. Currently under construction and due to open in 2030, Hunter Street Station joins eight new stations on the Sydney Metro West line, which will form a 24-kilometre rail link between Westmead and the CBD.
Three of the site's four existing buildings will be demolished if the City of Sydney approves Milligan Group's application. A four-storey Victorian Italianate building at 15–17 Hunter Street, formerly known as Pangas House, will be retained due to its heritage status.
Milligan Group described the project as "a legacy building for Central Sydney in the form of a world-class commercial office tower in the commercial core of the CBD."
A second commercial tower is scheduled to be built over Hunter Street Station, Sydney Metro reported in 2022.
Sydney Metro said the proposal is "consistent with the Central Sydney planning strategy, which allows increased building density and heights in suitable locations while protecting public spaces."
According to the report, the two towers will differ in height in order to comply with sun access and plane regulations.
Source: ArchitectureAU
---
Attend Sydney Build Expo, the largest construction, architecture and infrastructure show in Australia. Gain access to 10 conference stages and networking sessions, check out 400+ exhibitors, learn from 500+ high-profile speakers and connect with 35,000+ built environment professionals.