Australian Infrastructure Projects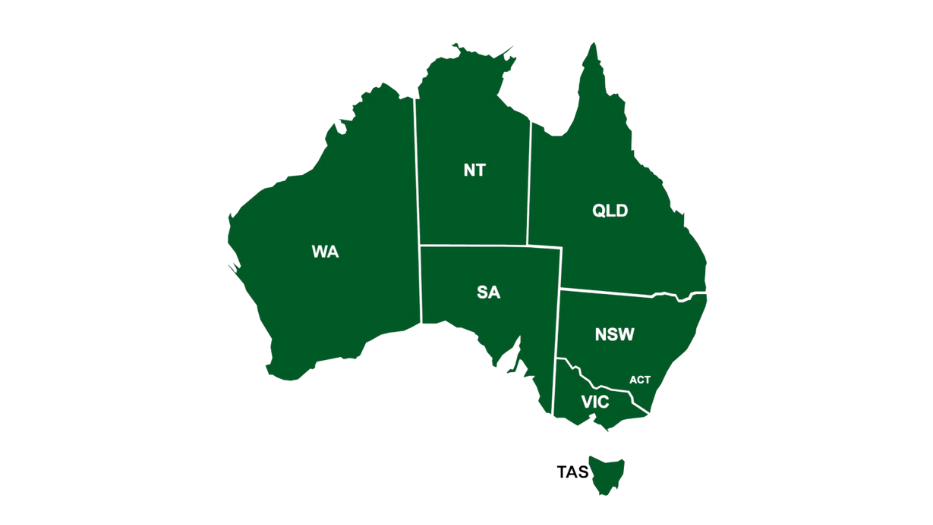 The largest infrastructure projects include:
WestConnex (NSW), $16 Billion

Sydney Metro (NSW), $12 Billion

Melbourne Metro Tunnel (VIC), $11 Billion

West Gate Tunnel (VIC), $10 Billion

Melbourne Airport Rail Link (VIC), $10 Billion

Melbourne to Brisbane Inland Rail (National), $9.3 Billion

Bruce Highway Upgrade Program (QLD), $8.5 Billion

Cross River Rail (QLD), $5.4 Billion

Western Sydney Airport (NSW), $5.3 Billion

Western Sydney Infrastructure Plan (NSW), $4.4 Billion

METRONET (WA), $3 Billion

M80 Ring Road Upgrade (VIC), $2.25 Billion
---
NEW SOUTH WALES INFRASTRUCTURE PROJECTS
1. WestConnex: $16 Billion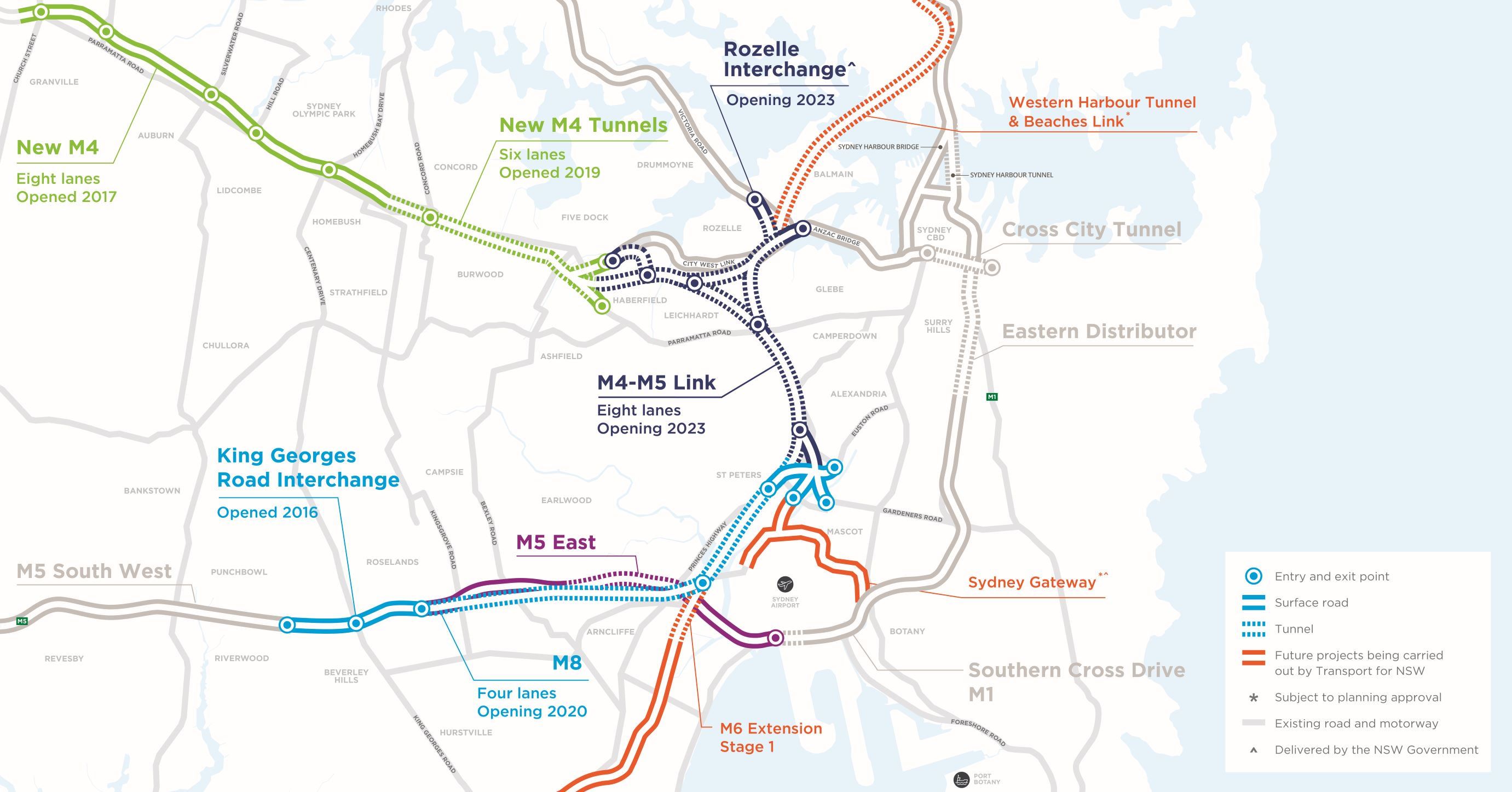 WestConnex is a 33-kilometre, light-free highway network designed to accommodate Sydney's growing population. WestConnex will connect Western Sydney to the city's better employment areas, producing 10,000 direct and indirect jobs in the process. WestConnex, a $16 billion project, is almost finished.
The new M4 debuted in 2019, with a 14-kilometre stretch of road widening. The new M8, which comprises 9 kilometres of underground twin tunnels, opened in 2020, while the M4-M5 Link, which includes 7.5 kilometres of underground twin tunnels, is scheduled to open in 2023.
Furthermore, WestConnex is predicted to lower Sydney's yearly congestion cost by $6 billion.
Completed
Widened the M5 between Parramatta and Homebush, allowing commuters to bypass 28 sets of traffic lights
Created new access points to the new M4 between Parramatta and Homebush
Lengthened the on and off-ramps at the King Georges Road M5 Interchange
Extended the M4 twin underground tunnels
Created new M5 underground tunnels between St Peters and Kingsgrove
Ongoing / Future projects
Join the underground M4 and M5 tunnels together
Provide a western bypass of the Sydney CBD
Provide connections of the future Western Harbour Tunnel, BeachesLink, F6 extension and the major international
Gateways at Sydney Airport and Port Botany
---
2. Pacific Highway Upgrade: 15 Billion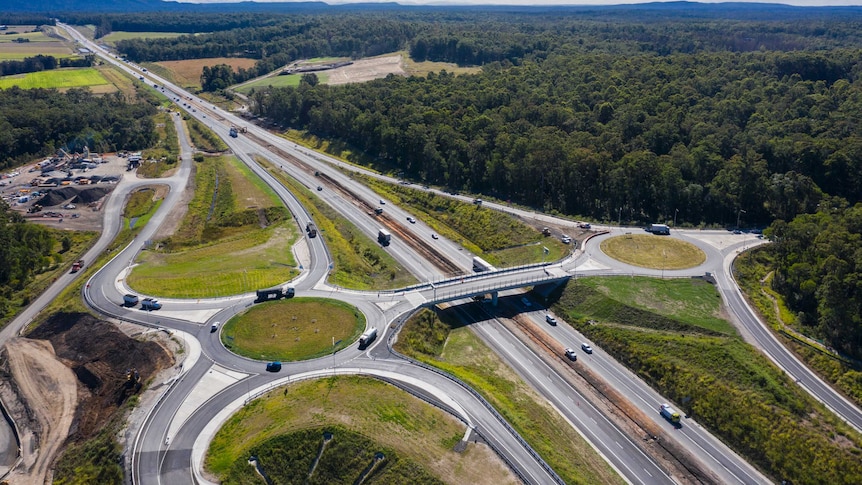 The Pacific Highway upgrade, which will offer a four-lane divided route from Hexham to Queensland, is being jointly funded by the Australian and NSW governments. The improvement began in 1996, and it is expected to be completed by 2021.
The highway includes four major projects:
Newcastle to Port Macquarie - 217-kilometre of four-lane divided road
Ballina to QLD Border - 91-kilometre upgrade
Port Macquarie to Coffs Harbour - 145-kilometre upgrade
Coffs Harbour to Ballina - 204-kilometre upgrade
Road safety, travel efficiency, and regional connectivity have all increased as a result of the highway renovation.
---
3. Sydney Metro: $12 Billion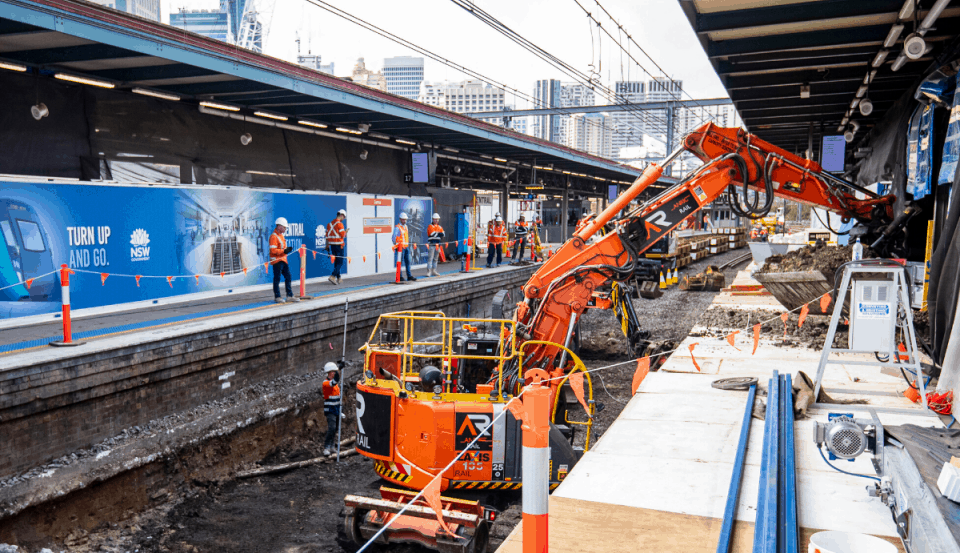 The 12-billion-dollar sum Australia's largest public transportation project is the Sydney Metro megaproject (previously known as the North West Rail Link). Sydney will feature 31 metro railway stations and a 66-kilometre standalone metro train system by 2024, revolutionising travel in Australia's largest metropolis.
The Sydney Metro is divided into two sections.
Stage 1 - Sydney Metro Northwest
Sydney Metro submitted a State Significant Infrastructure proposal in April 2020, seeking authorisation for the Sydney Metro West Concept and Stage 1 construction between Westmead and The Bays Precinct, which includes tunnelling and station excavation.
Approximately 24-kilometres of twin tunnels between Westmead and the Sydney CBD
8 New metro stations: Westmead, Parramatta, Sydney Olympic Park, North Strathfield, Burwood North, Five Dock, The Bays, and Sydney CBD
A turn-up-and-go metro service operating between Westmead and Sydney CBD
Stage 2 - Sydney Metro City and Southwest
The second stage of the Sydney Metro will be a 30-kilometre metro rail expansion from the end of the Sydney Metro Northwest to Chatswood, past the new CBD stations, and southwest to Bankstown. The project's current phase is planned to be completed in 2024.
For Sydney Metro City and Southwest, the NSW Budget allotted $8.3 billion over the forwards' estimates in 2020-21, including $2.7 billion in FY2020-21.
---
4. Western Sydney Airport: $5.3 Billion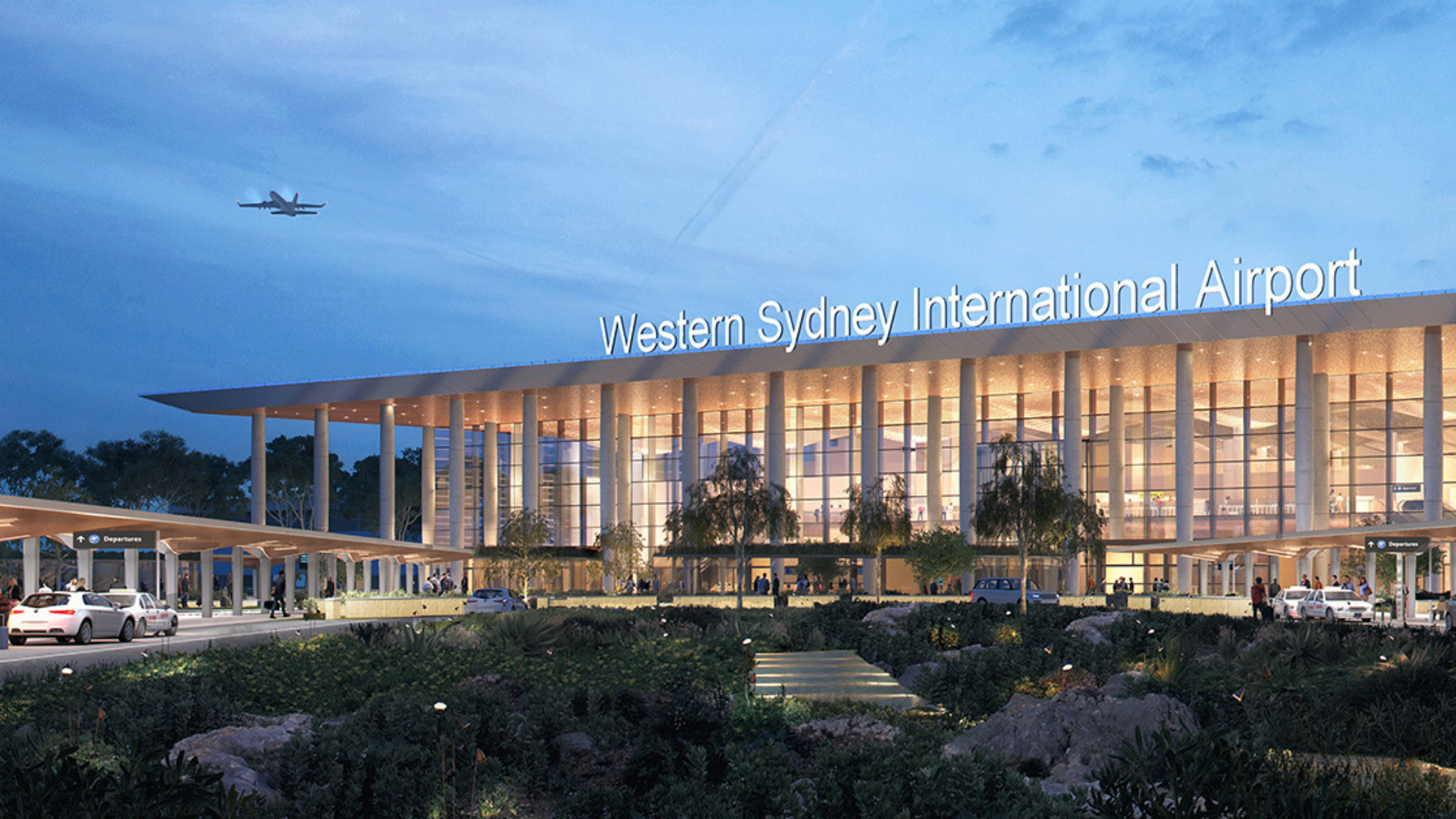 The Western Sydney Airport (Nancy-Bird Walton), which is located at Badgerys Creek in Western Sydney, is one of Australia's major infrastructural projects. The airport is set to open in 2026, with 28,000 direct and indirect jobs predicted by 2031.
The $5.3 billion international airport in Sydney is expected to be completed by the end of 2021, with three shortlisted contractors announced for the project.
Contractors who have been shortlisted for the new terminal's construction include:
Lendlease-CPB Joint Venture
Multiplex Constructions
Watpac Construction
The successful tenderer is Multiplex, in partnership with Arup, Woods Bagot and Airbiz. The Cox Architecture and Zaha Hadid Architects submission was announced as the winning terminal design.
---
5. Western Sydney Infrastructure Plan: $4.4 Billion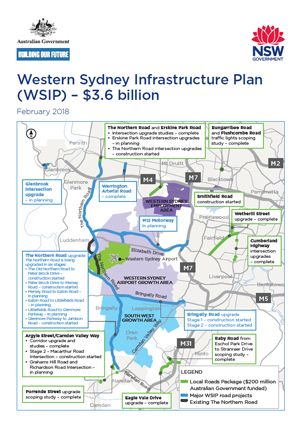 The Western Sydney Infrastructure Plan (WSIP) is a 10-year investment of $4.4 billion by the Australian and New South Wales governments, with the Australian government contributing over $3.5 billion.
The WSIP will improve road connectivity throughout western Sydney, benefiting the region's rising population. By alleviating congestion and cutting travel times, this initiative will relieve pressure on current infrastructure and unlock the region's economic potential. When Western Sydney International (Nancy-Bird Walton) Airport opens in 2026, the plan will create a high-quality surface transportation network that ensures the efficient movement of passengers, staff, and freight.
The WSIP is expected to support 4,000 direct and indirect jobs over the life of the plan.
The WSIP includes the following projects:
The Northern Road: $1.6 billion
Bringelly Road: $509 million
M12 Motorway: $2.04 billion
Werrington Arterial Road: $52 million
Glenbrook Intersection at Ross Street: $5.6 million
Local Roads Package (LRP): $200 million
Here you can find the map of the Western Sydney Infrastructure Plan.
---
6. Parramatta Light Rail: $2.4 Billion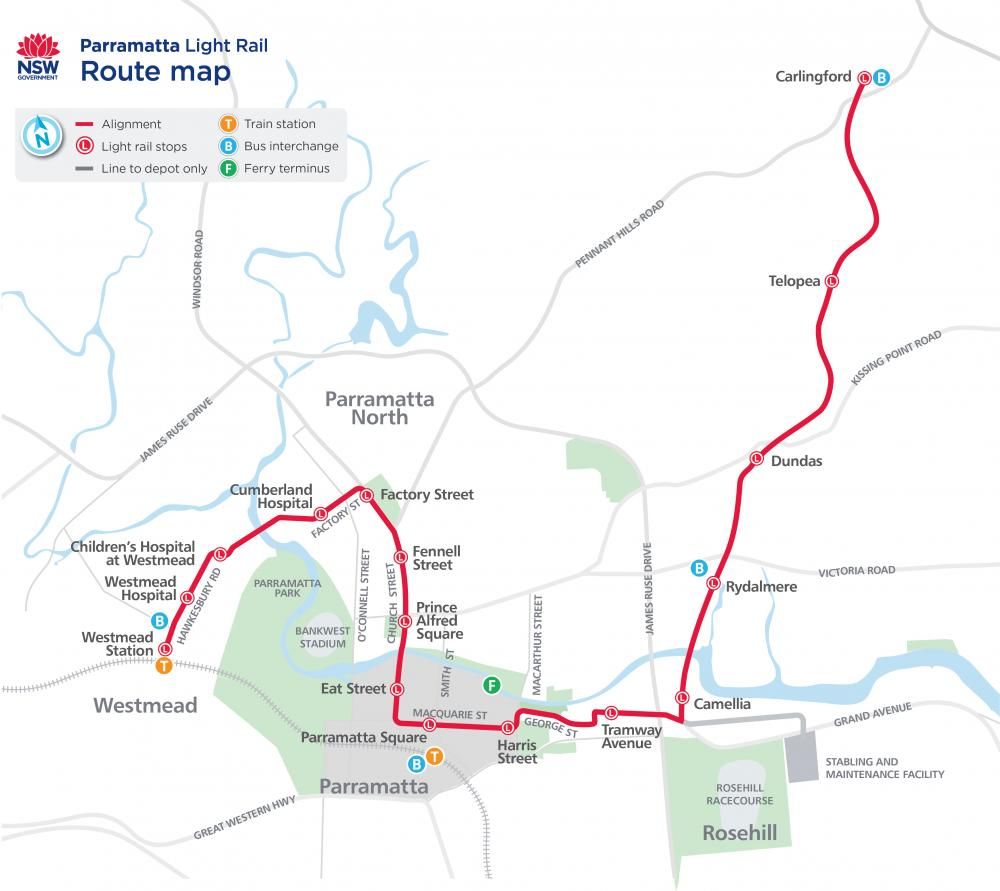 The Parramatta Light Rail is one of the most recent significant infrastructure projects completed by the NSW Government in order to service a burgeoning Sydney.
The Parramatta Light Rail will run approximately 12 kilometres from Westmead to Carlingford, passing through the Parramatta CBD and Camellia. It is planned to open in 2023. The route will connect Parramatta's CBD and train station to the Westmead Health Precinct, Cumberland Hospital Precinct, CommBank Stadium, the Camellia Town Centre, Powerhouse Parramatta, the private and social housing redevelopment at Telopea, Rosehill Gardens Racecourse, and three Western Sydney University campuses.
Around 28,000 people will use Parramatta Light Rail on a daily basis by 2026, with an estimated 130,000 people living within walking distance of light rail stops.
Businesses, local residents, commuters, and visitors will all benefit from the Parramatta Light Rail, which will help Parramatta grow as Sydney's second CBD.
The $2.4 billion Parramatta Light Rail will deliver:
frequent and reliable services 7 days a week, from early morning to late at night
services every 7.5 minutes during peak periods (7 am to 7 pm weekdays)
high-capacity services, with each vehicle able to carry up to 300 people (equivalent to around 6 standard buses)
modern and comfortable air-conditioned vehicles
The NSW Government will also build a five-kilometre walking and biking trail, urban design, new bridges, and road network upgrades as part of the Parramatta Light Rail scheme.
---
7. Princes Highway Upgrade: $450 Million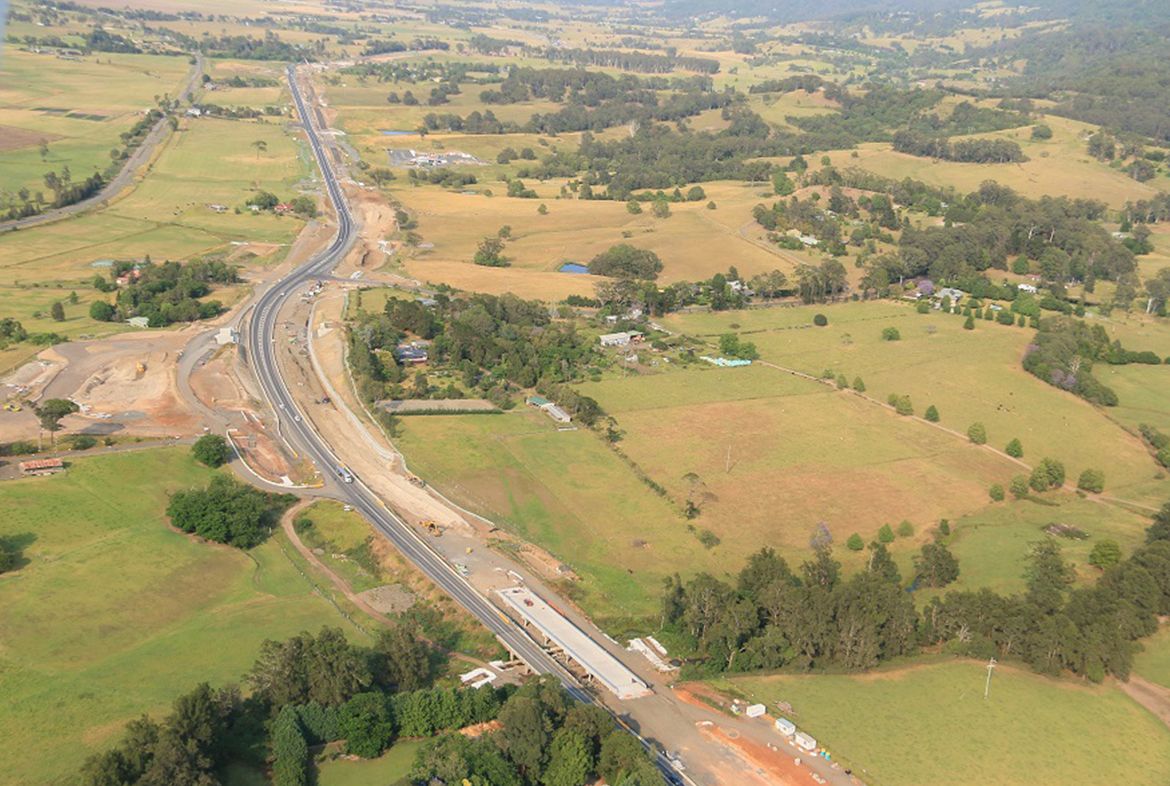 The Princes Highway Upgrade is a set of projects aimed at improving NSW's principal route between Sydney and the Victorian border. This significant update has a 20-year timeline from now until 2040, with goals to create a network that is safer, more reliable, and better connected.
The roadway would facilitate the mobility of people and commodities while also promoting long-term economic, employment, and population expansion in the area.
It would add to the character of the communities it serves while also being robust enough to adapt to natural catastrophes and climate change, adjust to changing land use, and support new technologies, industries, and economic trends.
The upgrade includes the following projects:
Albion Park Rail Bypass
Bateman Bay Bridge Replacement Project
Berry to Bomaderry
Nowra Bridge Project
Jervis Bay Road to Sussex Inlet Road Upgrade
Burrill Lake to Batemans Bay
Milton Ulladulla Bypass
Moruya Bypass
Jervis Bay Road and Princes Highway Intersection Upgrade at Falls Creek
---
8. Port Botany Rail Line Duplication: $400 Million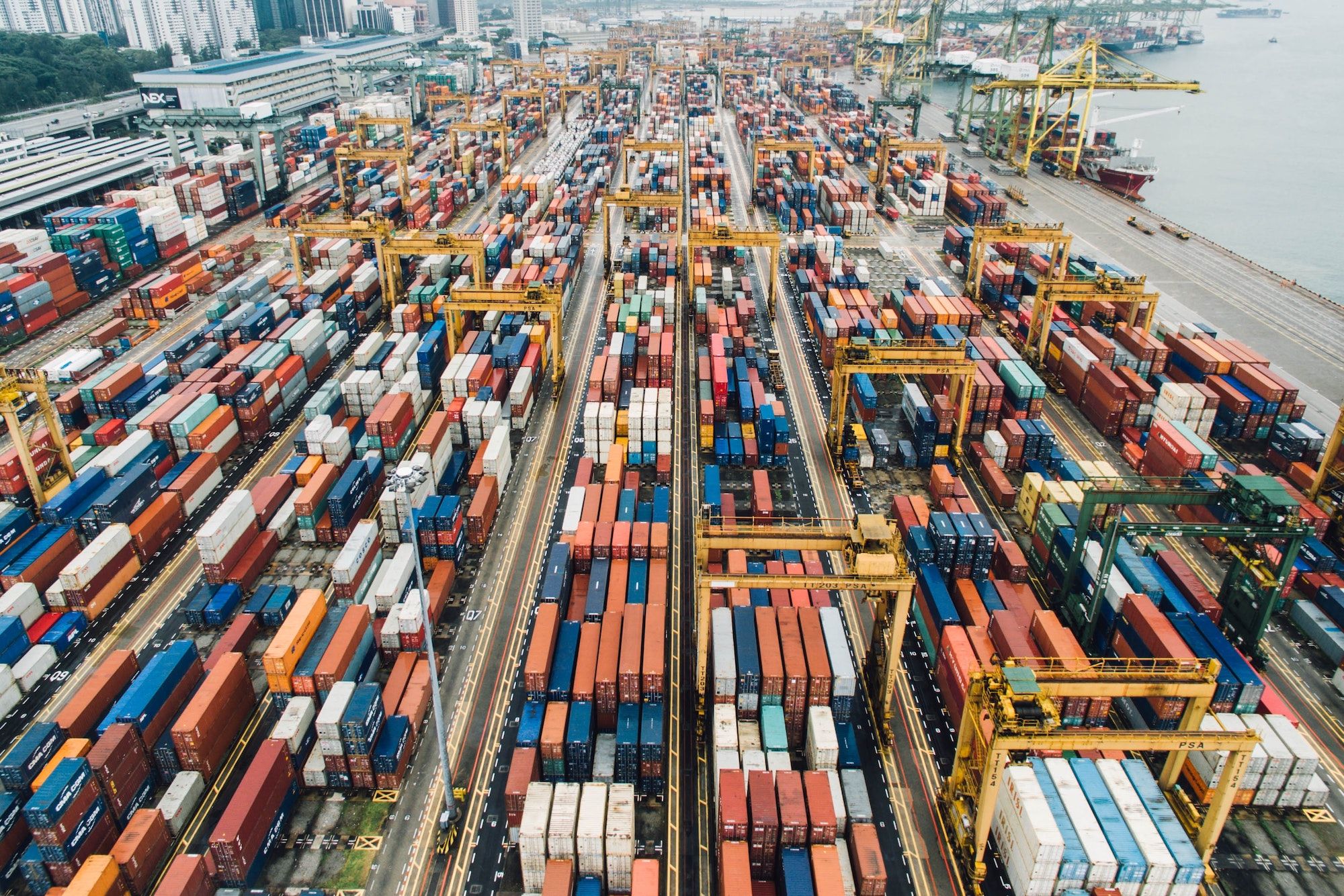 The Botany Rail Duplication will boost capacity on the Botany Line and the greater Metropolitan Freight Network by allowing one train to transport the equivalent of 54 trucks.
This will stimulate a freight mode shift from road to rail, potentially lowering the rate of growth in truck movements and reducing traffic congestion.
The Botany Rail Duplication will double the existing single-line track, allowing freight to be effectively transported from the port to our doorstep and beyond.
The project is being carried out on behalf of the Australian Government by the Australian Rail Track Corporation (ARTC).
In May 2018, the Australian government committed financing to duplicate the remaining single-line freight track between Mascot and Botany. The project aims to:
Alleviate constraints and increase the capacity of Sydney's freight rail network to meet existing and future demands
Provide increase operational efficiency, flexibility and reliability for freight customers support current NSW government targets to increase the rail mode share
Support connection to, and operation of, intermodal terminals to meet their targeted freight capacity
Botany Rail Duplication intends to provide capacity to meet the expected increase in the containerised freight demand and support rail services between Port Botany and metropolitan freight intermodal terminals, in conjunction with the Cabramatta Loop Project.
The project includes:
Track duplication – constructing a new track within the rail corridor for a distance of about three kilometres
Track realignment and upgrading – moving some of the track sideways to make room for the new track
New crossovers – constructing new crossovers to allow trains options to move between tracks
Bridge works – constructing new rail bridges at Mill Stream, Southern Cross Drive, O'Riordan Street and Robey Street
Embankment/retaining structures – constructing new embankment and retaining structures
---
9. Nowra Bridge Project: $342 Million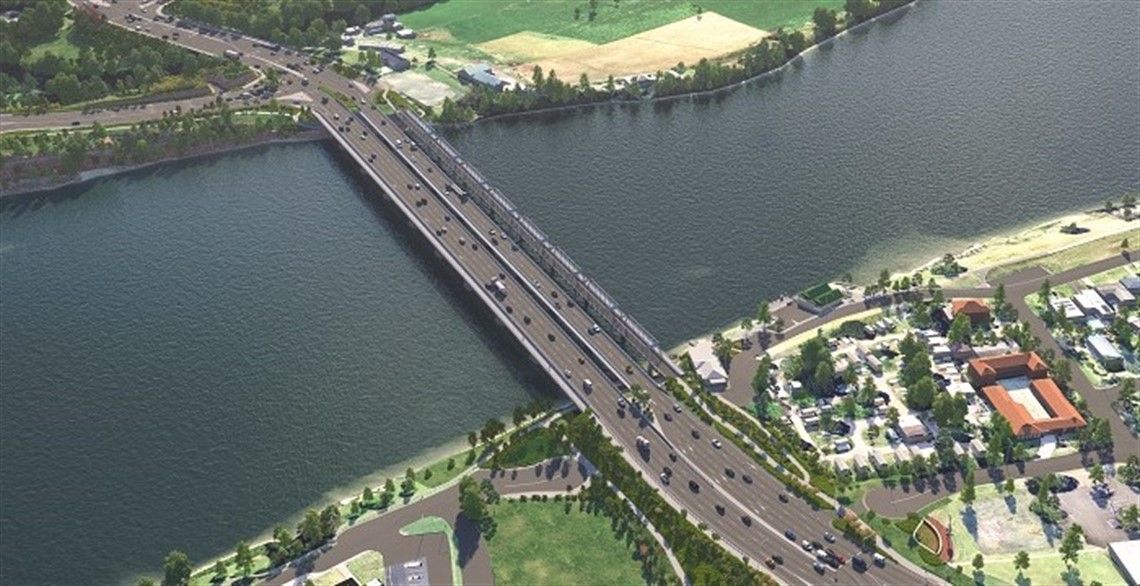 The Nowra Bridge project will include a new four-lane bridge across the Shoalhaven River, as well as enhanced intersections and more lanes on the Princes Highway. The NSW and Australian governments are co-funding the $342 million project.
The new bridge will be used to cross northbound traffic, allowing the existing northbound concrete bridge to be used to cross southbound traffic. The older southbound bridge, which was constructed in 1881, will be converted into a pedestrian and bicycle route.
Between Bolong Road and Moss Street, a 1.6-kilometre stretch of the roadway will be upgraded to three northbound lanes and three southbound lanes. From the Princes Highway to Illaroo Road, two right-turn lanes will be provided. From Illaroo Road to the highway, the project will add three right-turn lanes and one dedicated left-turn slip lane.
The project's major work began in mid-2020, and it is projected to be completed by mid-2024.
The construction of the Nowra Bridge project is anticipated to generate more than 300 jobs.
---
VICTORIAN INFRASTRUCTURE PROJECTS
1. North East Link Road Project: $15.8 Billion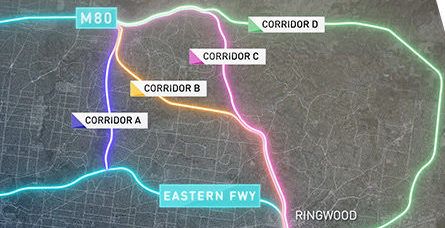 The North East Link is the most significant investment in Melbourne's north-east, and it will transform how people move around the city.
The city of Victoria's longest road tunnels will complete a missing link in the city's highway network, removing 15,000 trucks from local roads each day and reducing travel times by up to 35 minutes.
Projects include constructing the Ring Road in Greensborough, remodelling the Eastern Freeway, constructing Melbourne's first dedicated busway, and constructing the North East Trail, which will span over 34 kilometres of walking and cycling routes.
---
2. Melbourne Metro Tunnel: $11 Billion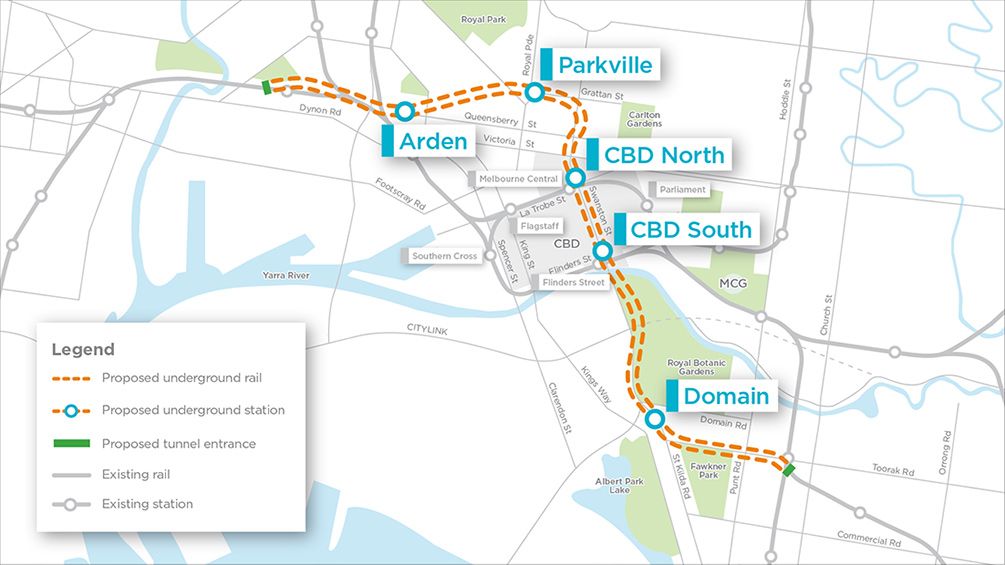 The Melbourne Metro Tunnel will connect Sunbury in the west to Cranbourne/Pakenham in the east, creating a new end-to-end train line.
The Metro Tunnel will increase network capacity, allowing more than half a million additional people per week to use Melbourne's railway system during peak periods.
Construction of the project includes:
Twin nine-kilometre rail tunnels from the west of the city to the south-east as part of a new Sunbury to Cranbourne/Pakenham line
New underground stations at Arden, Parkville, Domain and two new CBD stations directly connected to the City Loop at Flinders Street and Melbourne Central stations
Train/tram interchange at Domain
High capacity signalling to maximise the efficiency of the new fleet of High Capacity Metro Trains
The full Melbourne Metro Tunnel Project is expected to be completed by 2025.
---
3. Melbourne Gate Tunnel: $10 Billion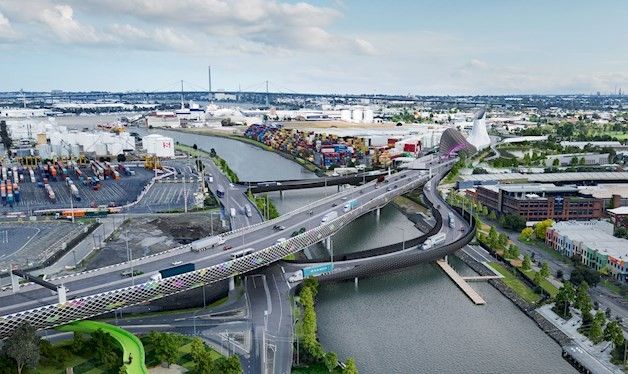 The West Gate Tunnel will connect the West Gate Freeway to the Port of Melbourne and CityLink along a four-kilometre toll road. The $6.8 billion project was delivered in collaboration with Transurban by the Victorian government. However, the cost of building the tunnel has soared to more than $10 billion.
The project will be delivered by Translink, which will also contribute $4 billion to the project's funding. This will be in exchange for a 10-year extension of the CityLink Concession Deed until 2045.
The project will be completed by a joint venture between CPB Contractors and John Holland. More than 500 construction workers are scheduled to be employed on the West Gate Tunnel project at its peak.
The project started in January 2018 and is projected to be finished in 2024.
---
4. Melbourne Airport Rail Link: $10 Billion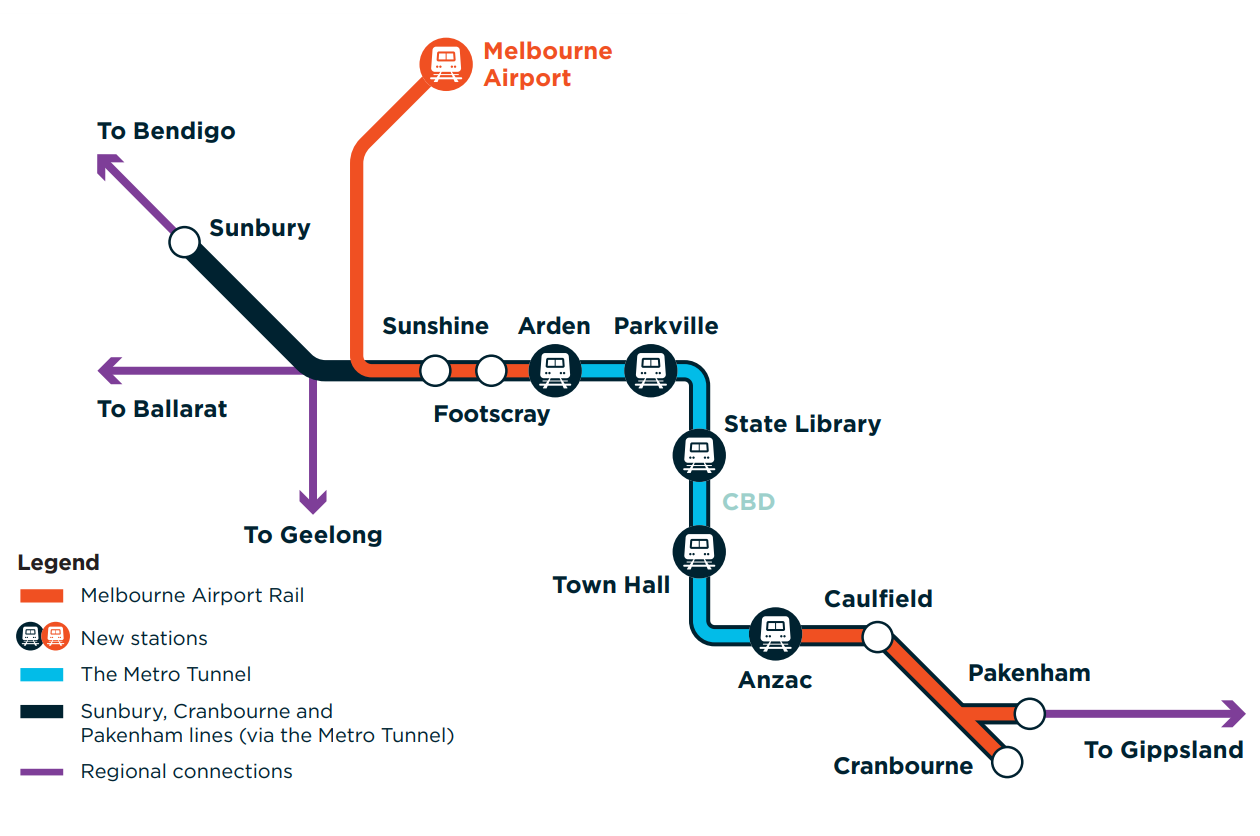 Melbourne Airport Rail is a game-changing public transportation project that, for the first time, connects Melbourne Airport to Victoria's rural and metropolitan train network.
Melbourne Airport Rail will be funded with $5 billion from both the Australian and Victorian governments.
Work on thorough planning and development is already ongoing, which will inform more precise cost estimates and clarify various aspects of the project scope and designs.
Construction is expected to commence in 2022, with a target opening date of 2029, pending applicable Victorian and Federal planning, environmental, and other government permits.
Trains will run from Melbourne Airport to Sunshine Station, through the Metro Tunnel and the CBD, and then to the Cranbourne and Pakenham lines.
Between Sunshine and Airport West, new dedicated lines will be built along the current Albion-Jacana freight corridor. The rails will detour from the freight corridor, crossing the Western Ring Road (M80), and heading towards Melbourne Airport via Airport Drive, before arriving at a new premium train station.
---
5. M80 Ring Road Upgrade: $2.25 Billion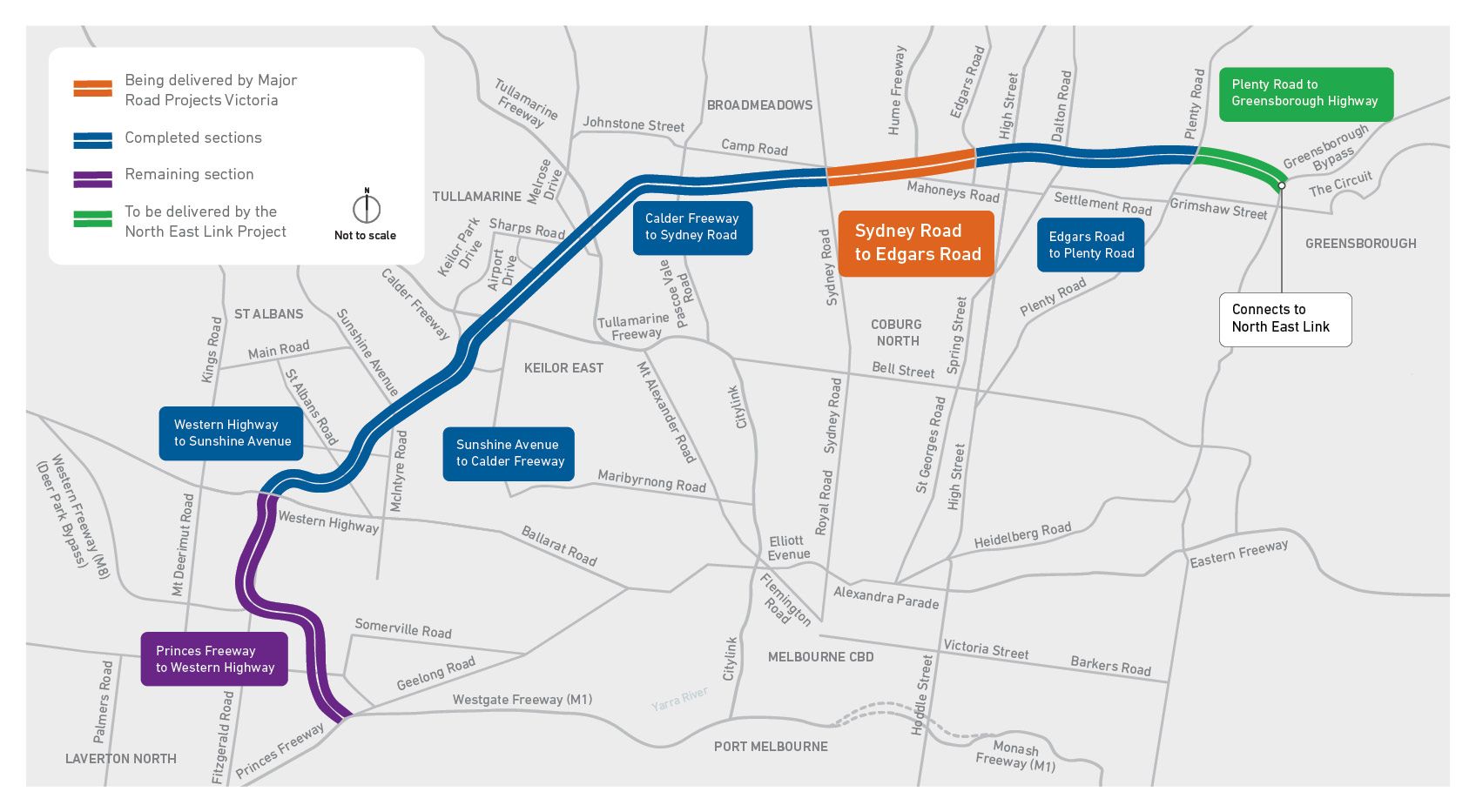 Along 38 kilometres of road from Laverton North to Greensborough, the M80 Upgrade will enlarge the motorway, widen on and off-ramps, and instal a new freeway management system.
From the Princes Freeway to the Greensborough Highway, the new system will include overhead electronic signs to convey speed limits and lane availability, regulate traffic flow and respond to problems.
For the 165,000 motorists who use this road every day, the project will expand capacity, improve safety, and provide more predictable travel times.
The project began in 2020 and is projected to be finished in early 2023.
Completed sections:
Sunshine Avenue to Calder Freeway (2018)
Edgars Road to Plenty Road (2014)
Western Highway to Furlong Road and Sunshine Avenue (2013)
Calder Freeway to Sydney Road (2013)
---
6. Monash Freeway Upgrade: $1.37 Billion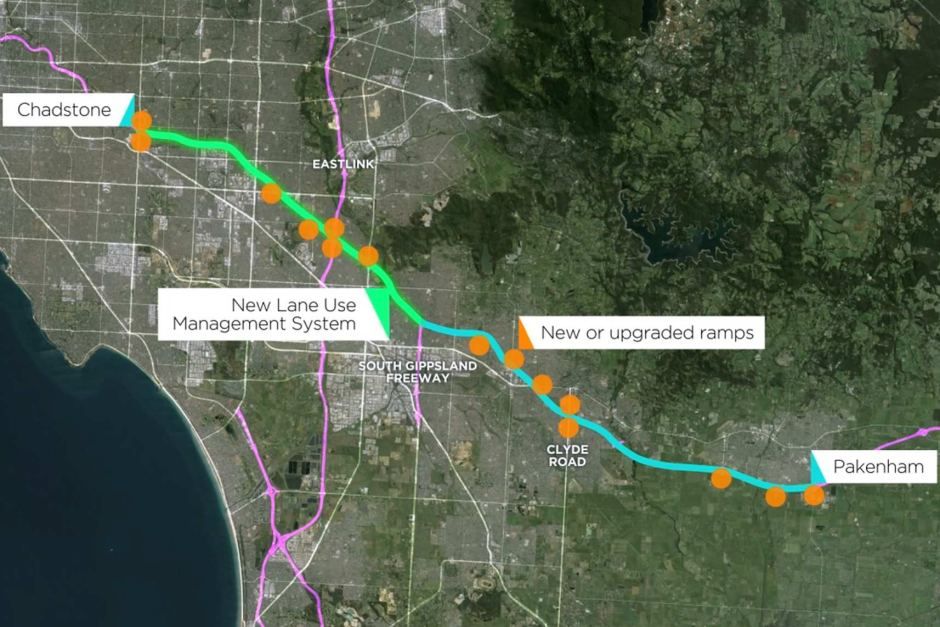 The Monash Freeway Upgrade project began in 2016 and has been ongoing since then. The multibillion-dollar project is being carried out in two parts.
Stage 1
Between the EastLink interchange and the South Gippsland Freeway, Stage 1 involved adding 30 kilometres of additional traffic lanes and enlarging the freeway from four to five lanes. Between South Gippsland and Clyde Road in Berwick, the highway street was also enlarged from two to three lanes in each direction. The first stage of construction began in September 2016 and ended in June 2018. Contractor Fulton Hogan finished the $400 million renovation 11 weeks ahead of schedule in 2018.
Stage 2
Stage two was started by CPB Contractors in early 2020 and is projected to be finished by 2022. The second stage entails the construction of 36 kilometres of new lanes on the Monash and Princes Freeways between:
Warrigal Road and EastLink outbound
EastLink to Springvale Road inbound
Clyde Road to Cardinia Road in both directions
Linking Police Road to the highway, connecting Jacksons Road directly to EastLink, and extending the land-use management system from the South Gippsland Freeway to the Beaconsfield interchange are all part of this stage of the project. The $711 million project also includes widening O'Shea Road to three lanes, connecting it to the Beaconsfield interchange, and constructing a shared walking and cycling path.
---
7. Monash Rail Upgrade: $475 Million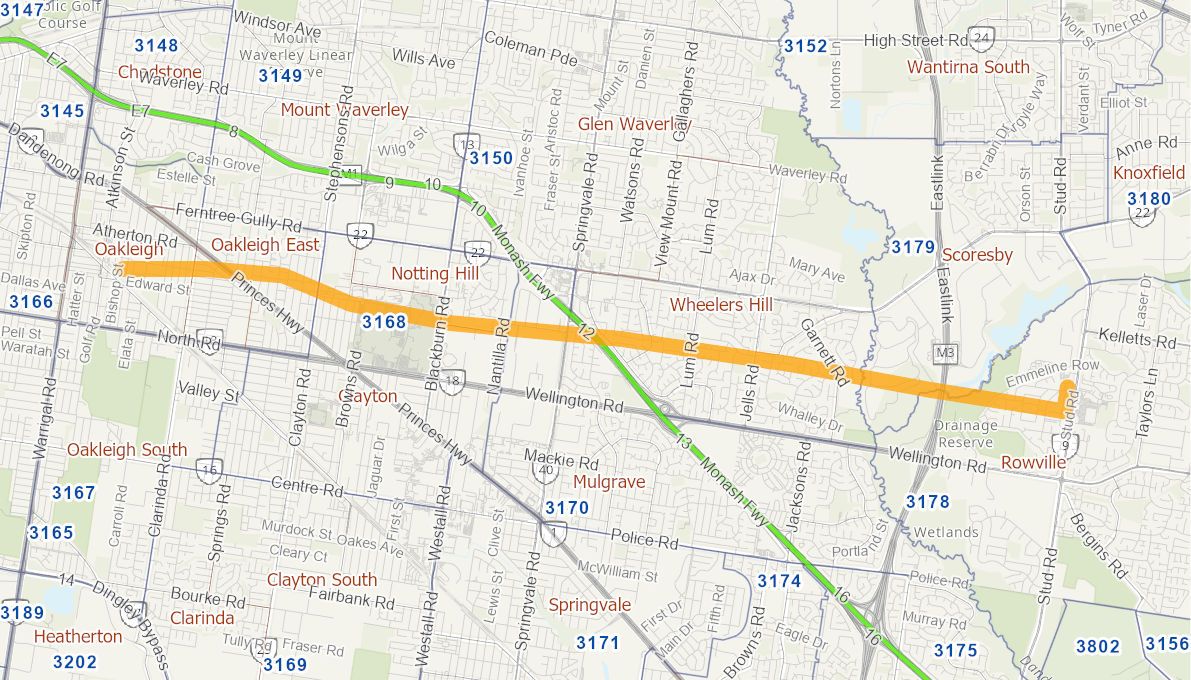 The Monash Rail Upgrade project will entail planning and preconstruction efforts to build a rail line to serve the Monash Precinct in south-east Melbourne. The project will finish a business case to evaluate the best way to alleviate traffic congestion along the corridor, such as heavy or light rail. The project will also include extensive planning and preliminary construction. The project's goal is to link the Monash precinct to Melbourne's transportation network and offer access to economic activities in the city. The proposal's second stage could include Rowville.
Traffic congestion will be relieved by a rail system that connects to the Monash Precinct and provides rapid and dependable travel. Improved transportation links would aid in attracting international investment to the region, resulting in considerable economic and social benefits for Victoria and Australia, as well as significant productivity increases for the community and economy. Access to jobs, health services, and affordable housing could all benefit from improved public transportation.
---
8. Frankston to Baxter Line Upgrade: $225 Million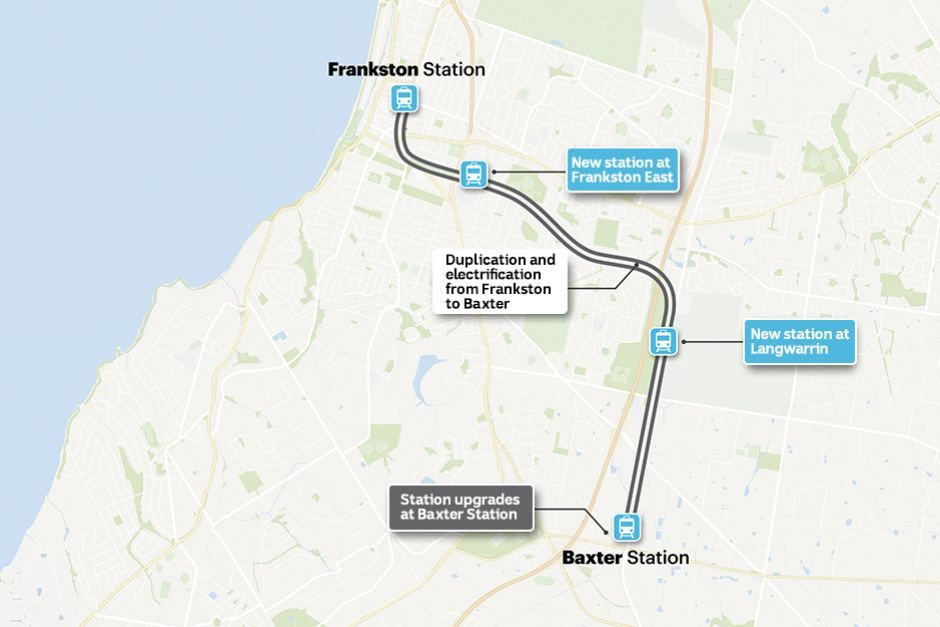 The Frankston to Baxter Line Upgrade project will duplicate and electrify 8km of the Stony Point Rail Line from Frankston to Baxter.
The Stony Point Rail Route connects Frankston to Stony Point on the Mornington Peninsula and is a 31-kilometre single-track non-electrified rail line. Metropolitan electric trains currently run on an electrified double track between Melbourne and Frankston. Diesel trains, on the other hand, run less often between Frankston and Stony Point. The majority of the population of the Mornington Peninsula lives south of Frankston. For those needing access to Melbourne, this necessitates lengthy bus connections to Frankston.
The project will allow for the operation of high-capacity metropolitan electric trains between Frankston and Baxter. This will boost capacity, shorten travel times, and boost service reliability.
---
QUEENSLAND INFRASTRUCTURE PROJECTS
1. Bruce Highway Upgrade Program: $8.5 Billion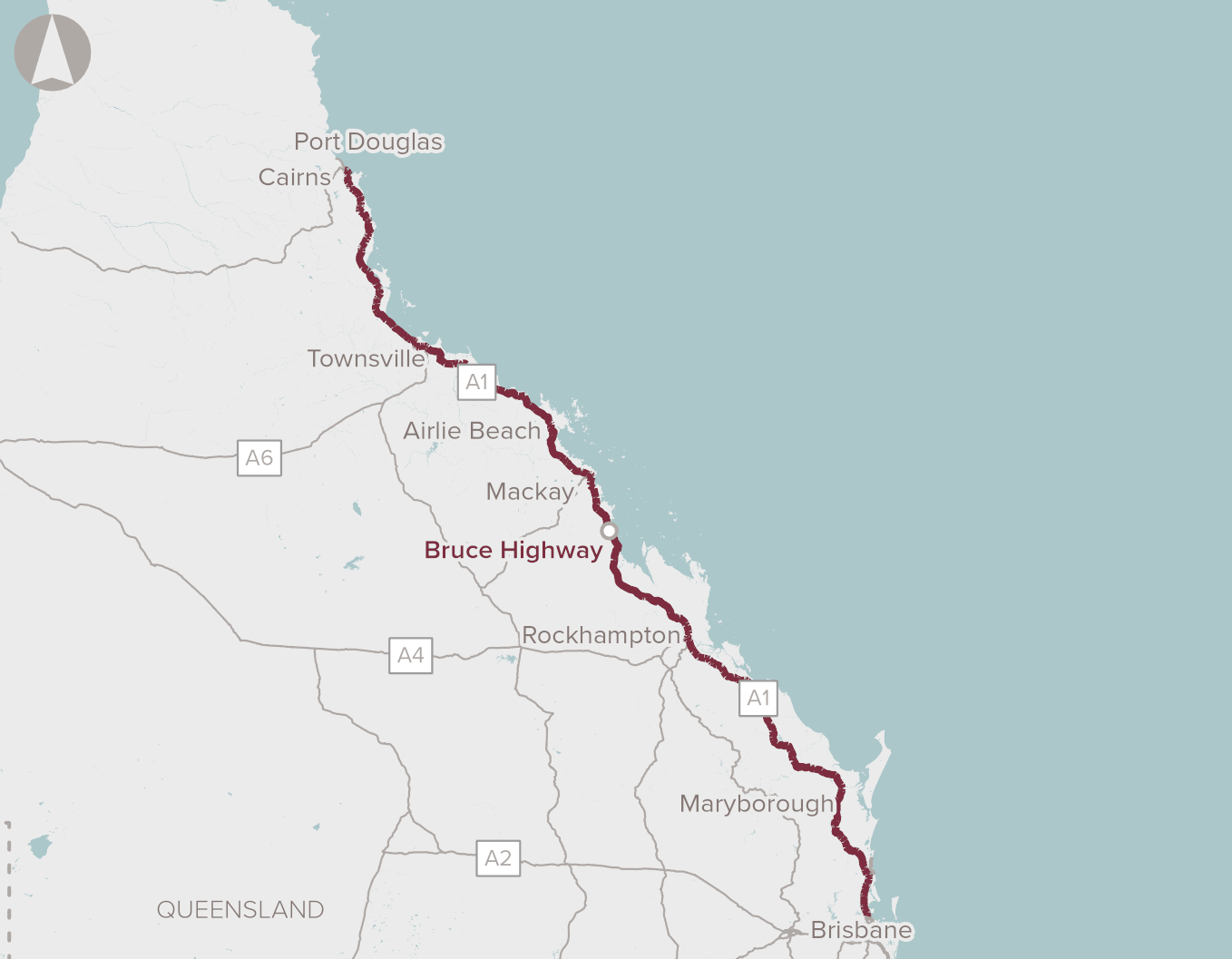 The Bruce Highway Upgrade Program is Queensland's greatest road infrastructure project to date. Its goal is to improve safety, flood resilience, and capacity over the highway's length and breadth between Brisbane and Cairns.
The Bruce Highway is Queensland's most important highway, stretching 1,677 kilometres from Brisbane to Cairns. The Bruce Highway sees anywhere from 4,000 to 145,000 automobiles every day.
The program commenced on 1 July 2013, with a rolling program of upgrade projects up and down the highway, to be completed by June 2028.
The 15-year program focuses delivery on the following 3 priority areas:
Safety improvements to enhance the safety of the highway through the provision of wide centreline treatments, intersection improvements, and safety barriers to reduce the risk of fatal and serious injury crashes so that it is safe for all road users
Flood improvements to enhance the efficiency of the highway by raising bridges and approaches and improving flood immunity on sections of highway subject to frequent flooding
Capacity improvements to enhance economic opportunity through the improved level of service on the highway
---
2. Cross River Rail: $5.4 Billion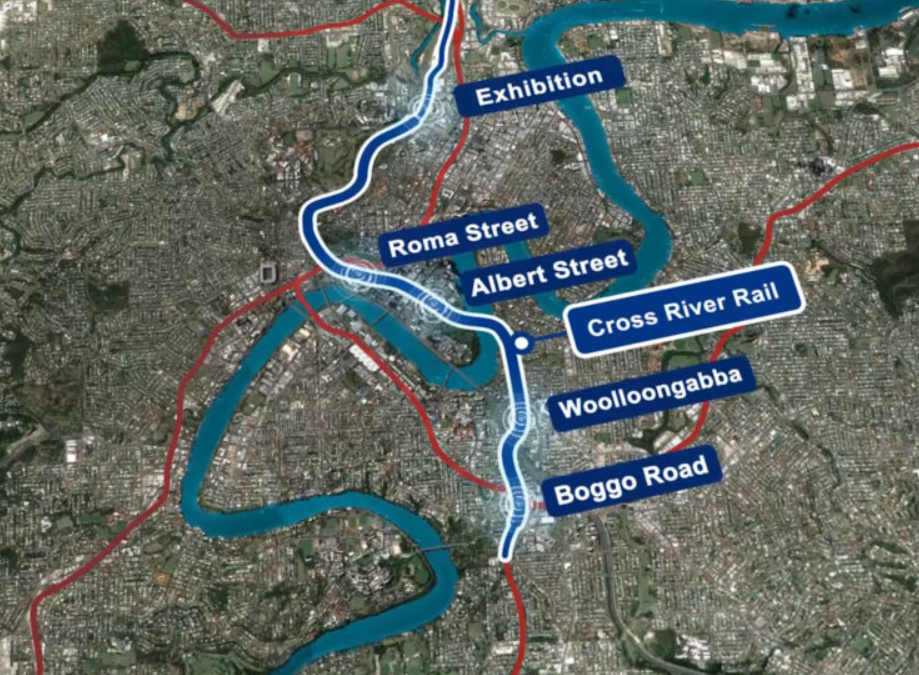 Cross River Rail is a new 10.2-kilometre rail line between Dutton Park and Bowen Hills, with 5.9 kilometres of twin tunnels beneath the Brisbane River and the CBD.
The population of South East Queensland is growing, putting strain on our transportation system.
The current rail network is already nearing capacity, with only four inner-city stations and a single river crossing, resulting in a bottleneck that limits our ability to run extra trains.
The Cross River Rail project eliminates this bottleneck by constructing a second river crossing, allowing more trains to run more often while also integrating with new roads and bus services to provide a turn-up-and-go public transportation system throughout South East Queensland.
Across South East Queensland, this revolutionary project will improve our quality of life, assist our economy in continuing to thrive, create thousands of employment, and spark urban growth.
The project will deliver:
Four new underground stations at Boggo Road, Woolloongabba, Albert Street and Roma Street
2 upgraded stations at Dutton Park and Exhibition.
6 upgraded Stations from Salisbury to Fairfield on Brisbane's Southside
Development of 3 new Gold Coast Stations
---
3. Gold Coast Light Rail: $2.7 Billion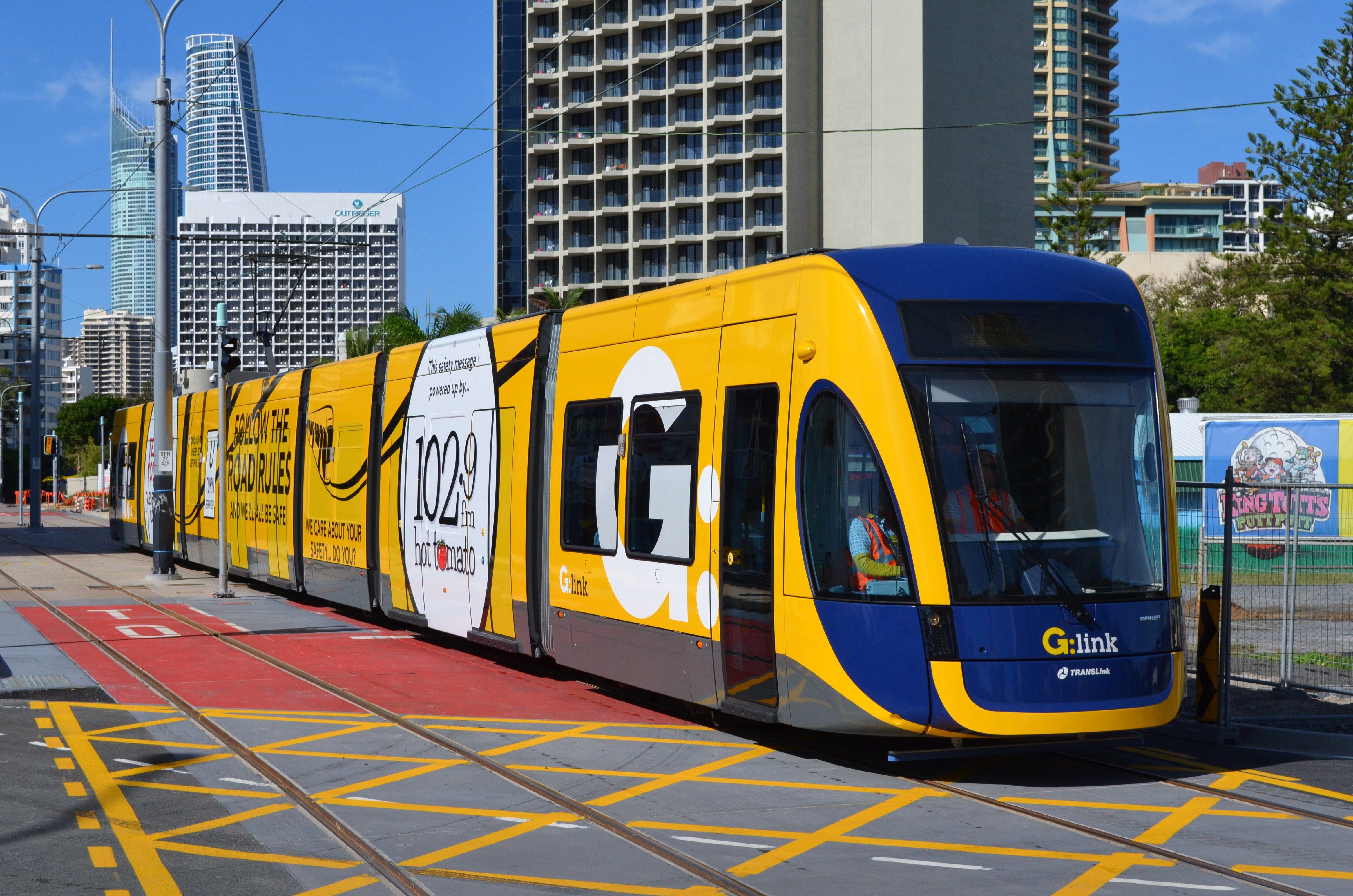 The Gold Coast Light Rail is a light rail system that serves the Gold Coast and has slowly evolved to a length of 20 kilometres over the years. Stage 1 was completed in 2014 and Stage 2 was finished in 2018 before the Commonwealth Games.
The Gold Coast Light Rail system is being built in stages in order to accommodate population development.
Communities will be connected to businesses and jobs, hospitals and medical facilities, education, shopping, dining, entertainment, and recreational activities as a result of the project.
Key features of Stage 3:
6.7km extension from Broadbeach South to Burleigh Heads
Dual track in the centre of the Gold Coast Highway
8 stations
Retain 2 traffic lanes on either side of light rail tracks
5 additional trams
A journey time of around 16 to 17 minutes from Broadbeach South station to Burleigh Heads
Major construction works for the extension to Burleigh Heads are expected to start in early 2022 and to be completed within 3 years.
---
4. M1 Pacific Motorway Upgrade: $1.8 Billion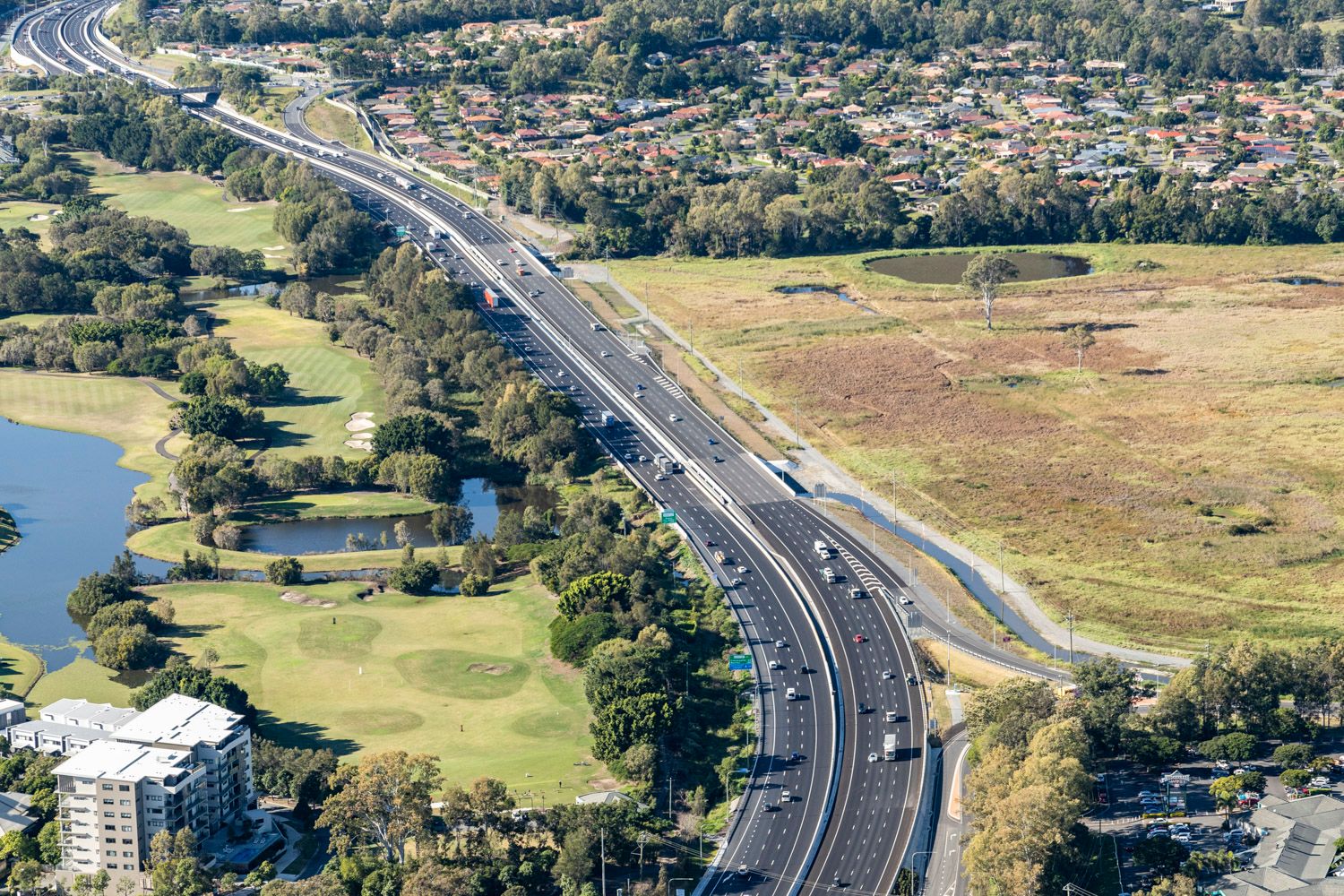 The M1 Pacific Motorway is a significant commuter and freight transit corridor between Queensland and NSW, and is part of the National Land Transport Network. The Pacific Motorway M1 is being upgraded and widened in strategic priority stages as funding becomes available, with traffic numbers and the greatest value for money in mind.
From Springwood to Tugun, sections of the Pacific Motorway (M1) see an average of 60,000 to 170,000 vehicles every day.
The M1 Motorway Upgrade North is divided into three stages:
Stage One - M1/M3 Gateway Merge ($196 million) - awarded to Lendlease in October 2017
Stage Two - Eight Mile Plains to Daisy Hill
Stage Three - Daisy Hill to Logan Motorway
Due to the size of Stage Three, the project will be divided into:
Stage 3A - Logan Road to Loganlea Road North (Exit 20 to Exit 23/24)
Stage 3B - Loganlea Road South to Logan Motorway (Exit 24 to Exit 31)
---
5. Brisbane Metro: $1.244 Billion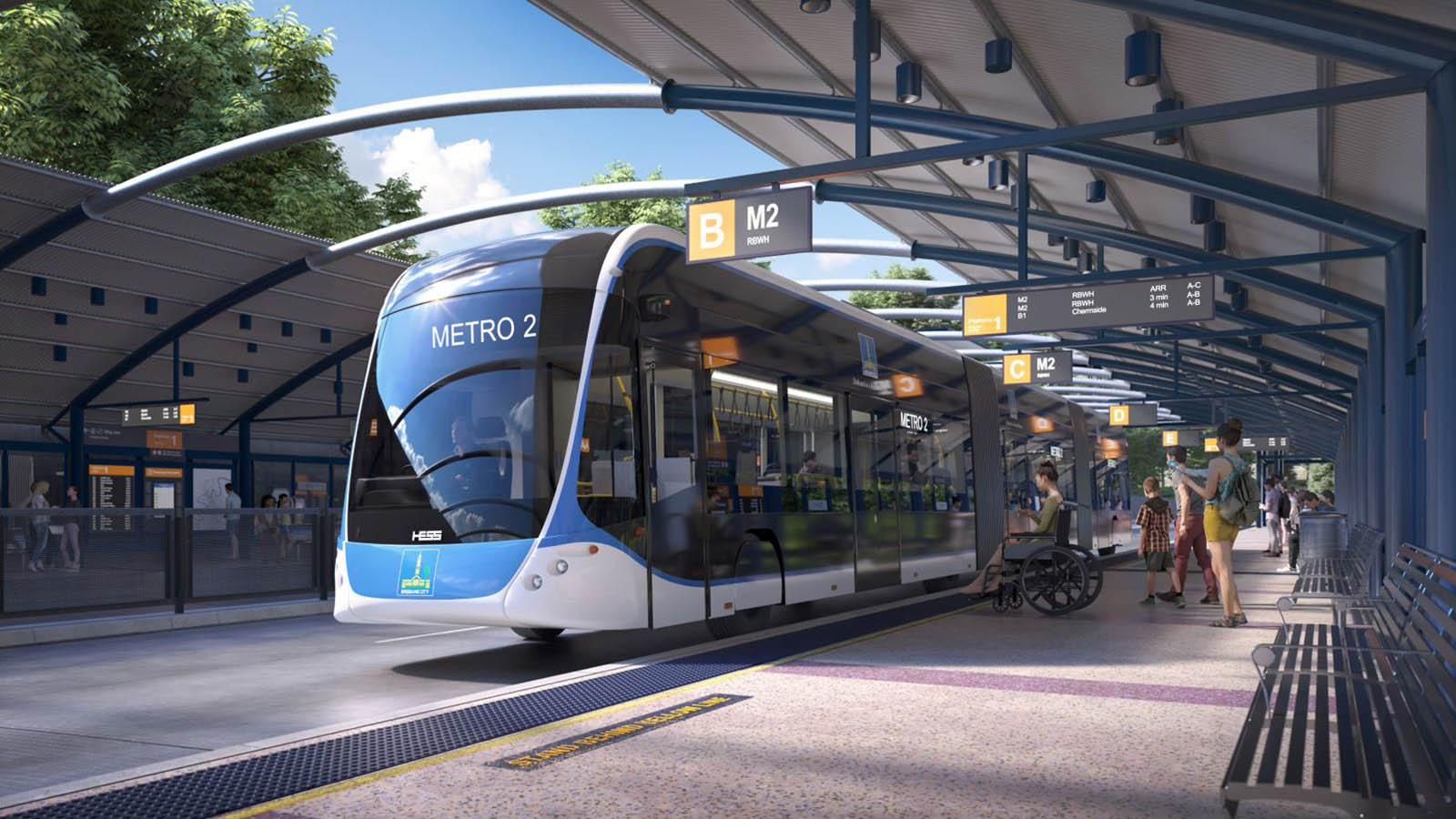 Brisbane Metro will be an important part of Brisbane's larger transportation network, which will connect the city to the suburbs. As part of a better-planned network, new high-capacity and high-frequency Brisbane Metro services will run along dedicated busways and connect with suburban bus and train services.
Brisbane Metro was announced in early 2016 to alleviate city traffic bottlenecks and transit network limits, as well as meet the need for frequent and dependable commuting to the city.
The first stage of Brisbane Metro is now under construction, and will connect 18 stations along dedicated busways between Eight Mile Plains and Roma Street, as well as the Royal Brisbane and Women's Hospital and The University of Queensland. A better transportation network will benefit the entire city of Brisbane, with convenient connections between Brisbane Metro, bus, and rail services.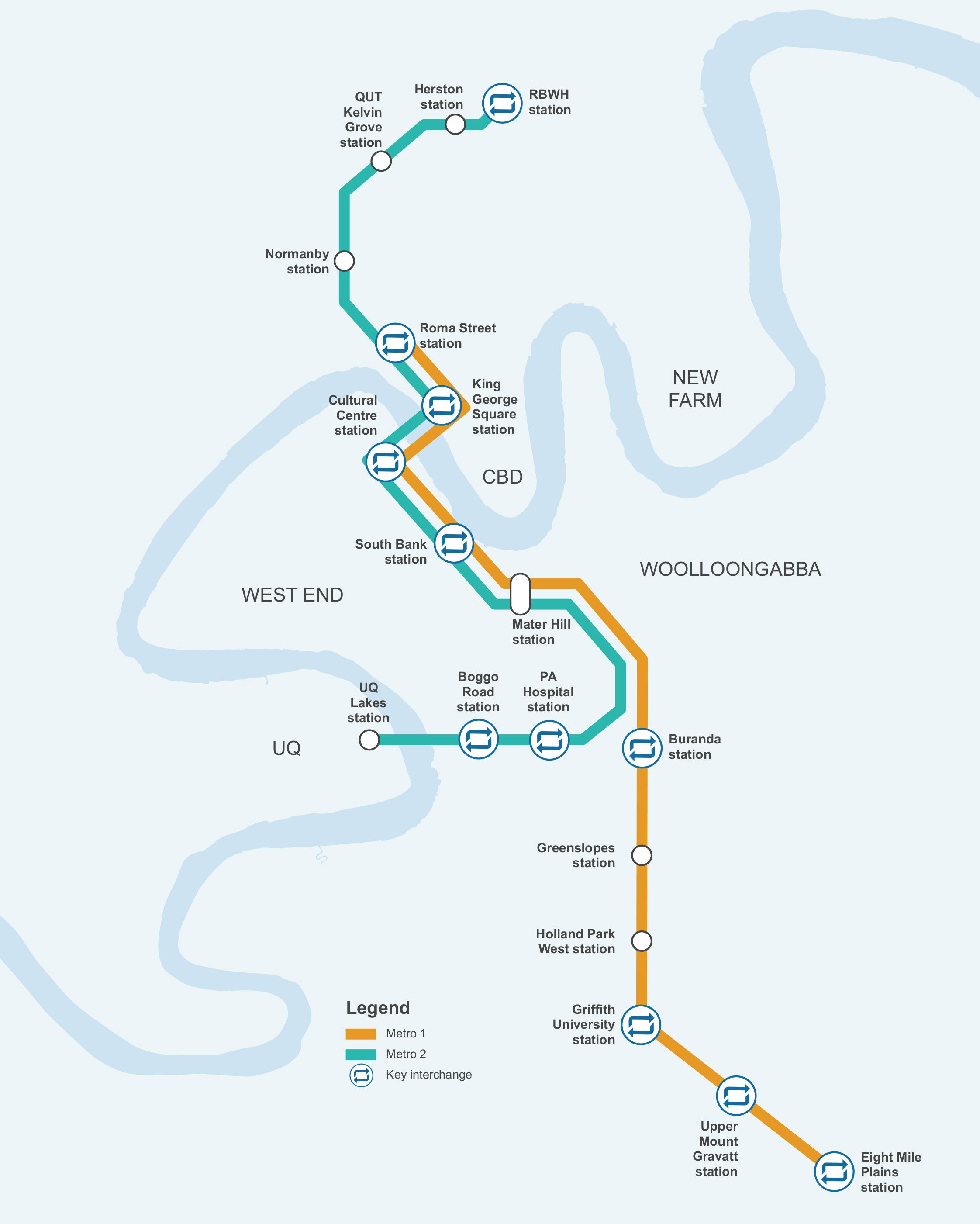 Brisbane Metro utilises specialised metro cars that can travel alongside buses to cover 21 kilometres of the existing busway. Each truck will be able to transport 150 people.
Two new high-frequency, high-capacity metro lines will be built as part of the project:
Metro 1 - Eight Mile Plains busway station to Roma Street busway station
Metro 2 - RBWH busway station to UQ Lakes busway station
Brisbane Metro will deliver:
High-frequency services every three minutes in peak periods on weekdays, with a metro every 90 seconds between Roma Street and Mater Hill busway stations
High-frequency services every five minutes on weekdays between the peak periods, providing a high level of convenience and reliability for passengers throughout the day
A 21 kilometre dedicated route servicing 18 stations
Upgrades to 17 existing stations, including ticketing improvements to speed up boarding
Interchange opportunities at 11 locations
Infrastructure includes:
A new tunnel beneath Adelaide Street and revitalised streetscape from North Quay to Edward Street
An upgraded Cultural Centre station
An enhanced gateway to the Cultural Forecourt with new landscaping and wider footpaths
Significant public realm improvements at Melbourne Street and Grey Street
Changes to Victoria Bridge to provide three lanes for Brisbane Metro and bus services, and dedicated cycling and pedestrian pathways
Upgrades to some suburban stations including end of route vehicle charging facilities
The first stage is expected to be finished by late 2024.
---
6. Beerburrum to Nambour Rail Upgrade: $550.8 Million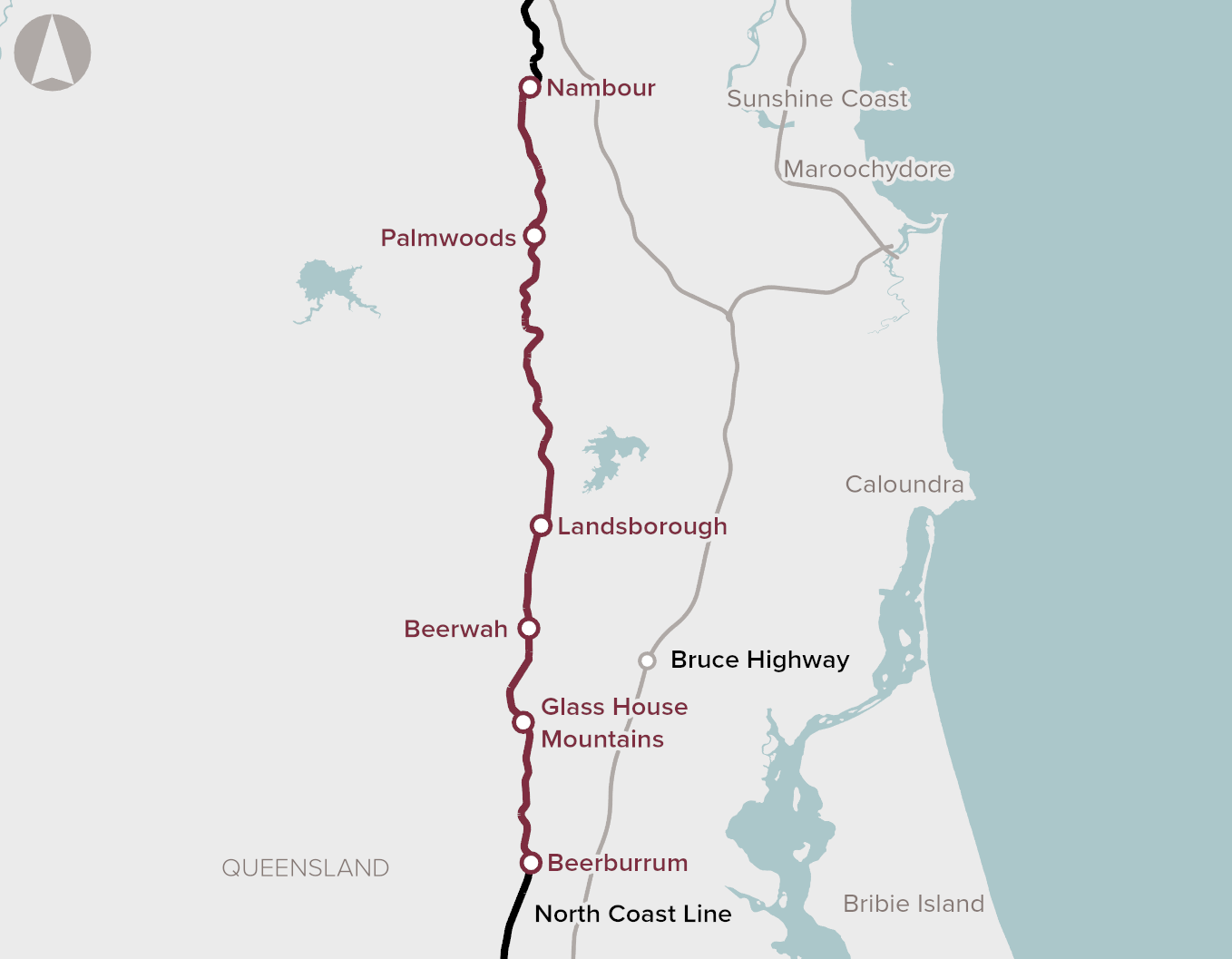 The North Coast Line between Beerburrum and Nambour will be upgraded as part of the project to boost capacity and meet future expansion and demand in the region. Duplication of the track between Beerburrum and Beerwah, development of park and ride facilities, and building of road overpasses at Burgess Street, Barrs Road, and Beerburrum Road will all be part of the project.
The project is expected to deliver the following benefits:
Increased capacity for commuter and freight services
Travel time savings for commuter and freight services
Reduced pressure on the local road network
Improved safety outcomes
Early construction is planned to begin in early 2021, followed by site assessment and design in mid-2021. Major construction work is planned to begin in mid-2022 and be completed in 2024.
---
WESTERN AUSTRALIAN INFRASTRUCTURE PROJECTS
1. METRONET: $3 Billion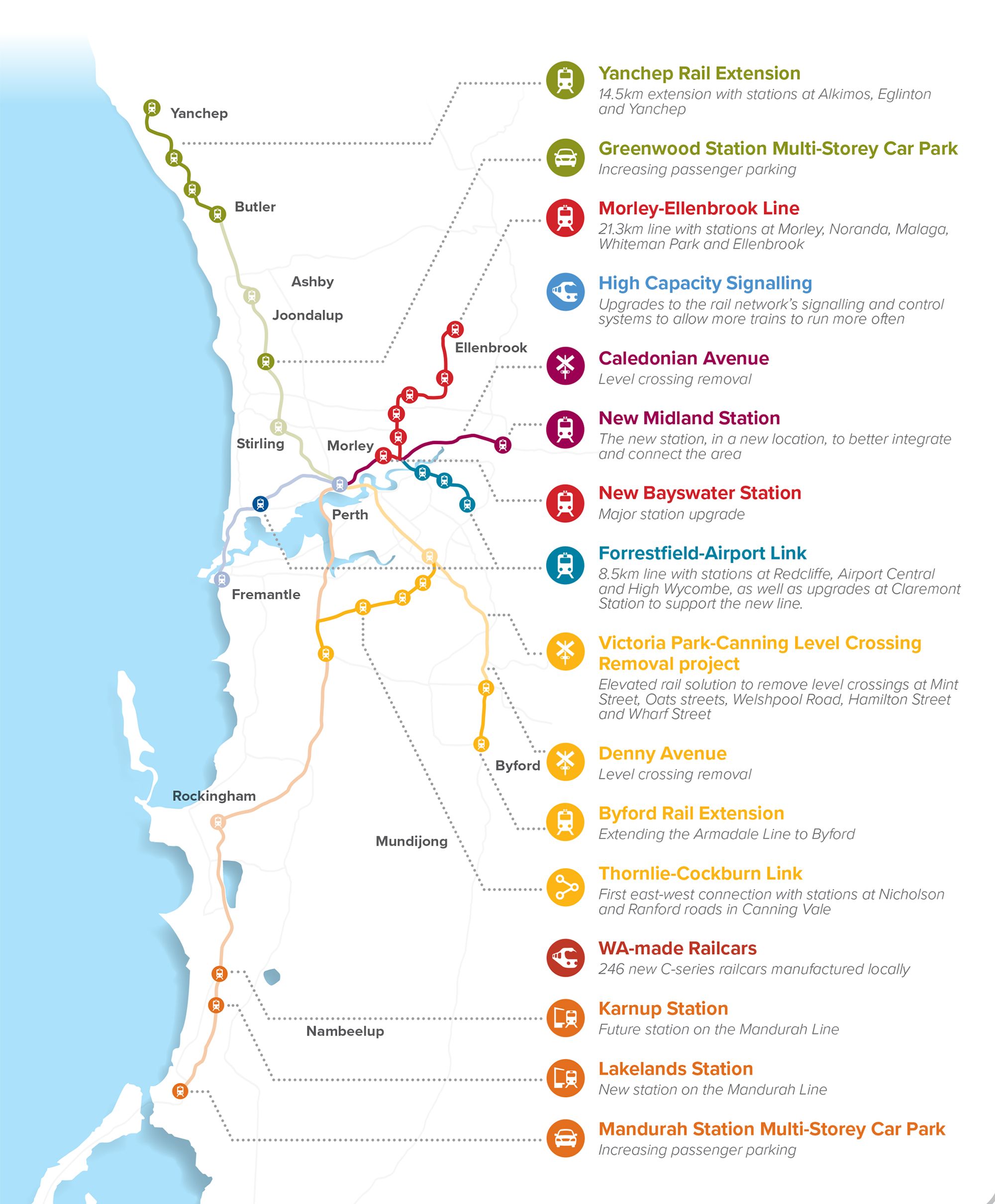 METRONET is an integrated transport and land use framework that will support the growth of the Perth metropolitan region over the next 50 to 100 years.
METRONET is a catalyst for transforming more than 8,000 hectares of land around new stations into ideal locations to live, work, and play, with about 72 kilometres of new passenger rail and 22 new stations.
Stage One of METRONET includes:
Completing the Forrestfield-Airport Link
Extending the Joondalup Line to Yanchep
Linking Thornlie and Cockburn Central stations
Planning and building the new Morley-Ellenbrook Line
Extending the Armadale Line to Byford
Relocating Midland Station and extending Midland Lane to Bellevue
Building a new station at Karnup on the Mandurah Line
Starting a program to remove level crossings on the Armadale and Midland lines
Designing and manufacturing the next C-Series trains
Planning for alternative transport options to better connect communities
Benefits include:
Integrated and effective public transport

Change travel behaviours and decrease private vehicle use

Improve housing diversity

Jobs and business opportunities
---
2. Bunbury Outer Ring Road Project: $ 852 Million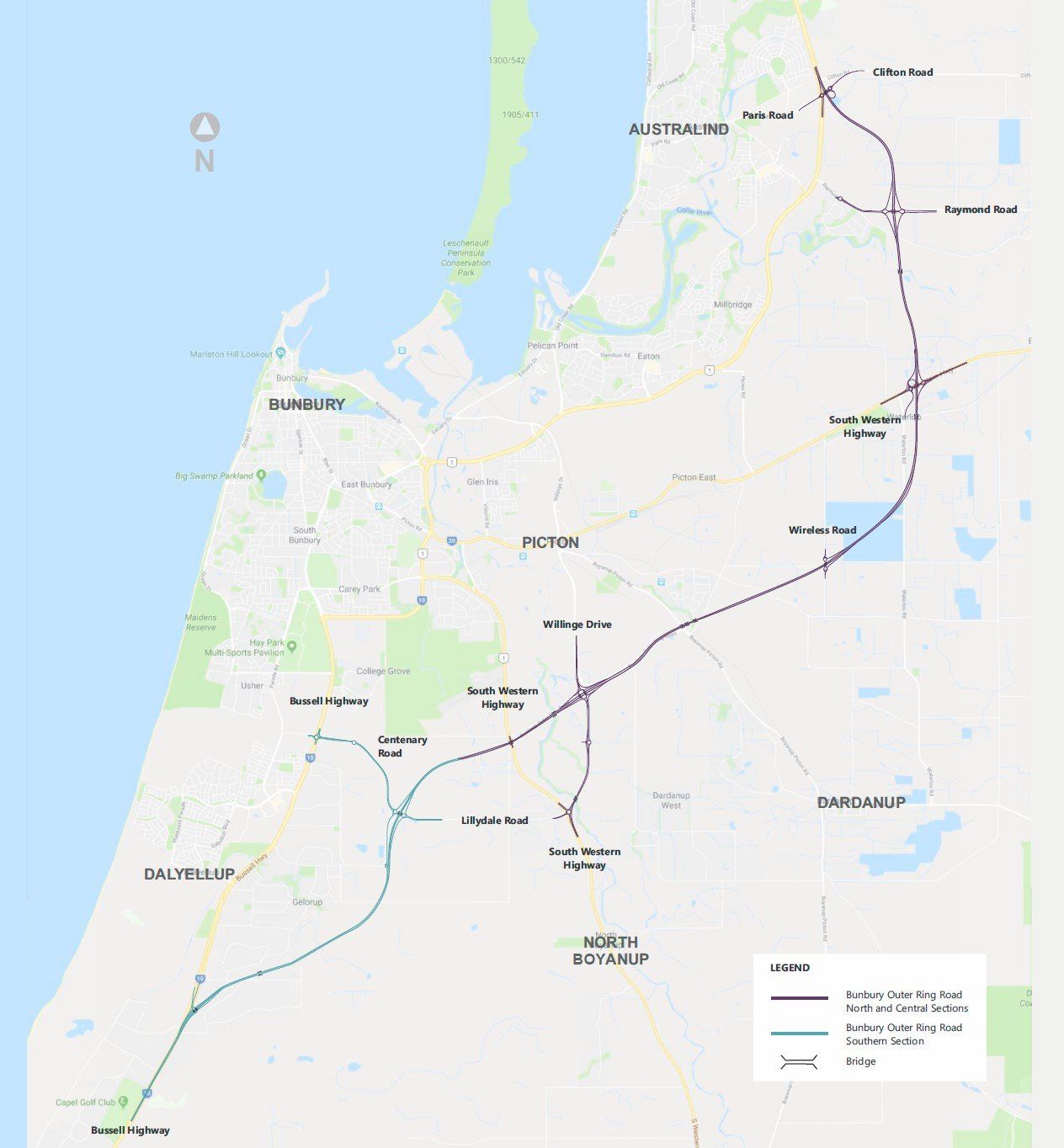 The Bunbury Outer Ring Road is a 27-kilometre free-flowing highway, linking Forrest Highway to Bussell Highway. The project will be delivered in three sections, providing an alternative route around Bunbury.
Bunbury Outer Ring Road (BORR) will provide an alternative route around Bunbury and separate local and regional traffic.
BORR will be built in three sections:
1. Northern Section - Forrest Highway to Boyanup Picton Road
Interchanges will be constructed at Forrest Highway, Raymond Road, South Western Highway, Waterloo and Willinge Drive
There will be a full connection at South Western Highway, providing better access for Bunbury CBD and Ferguson Valley
2. Central Section - Boyanup Picton Road to South Western Highway
Completed in May 2013, the four-kilometre Central Section included the extension of Port Access Road (Willinge Drive)
Willinge Drive, one of the larger interchanges, will provide access to Bunbury Port. There are also plans to extend Willinge Drive to South Western Highway, providing new access for the timber industry
3. Southern Section - South Western Highway to Bussell Highway
The Southern Section will include interchanges at Bussell Highway and Centenary Road, and a connection to Jules Road
---
3. Great Northern Highway Bindoon Bypass: $275 Million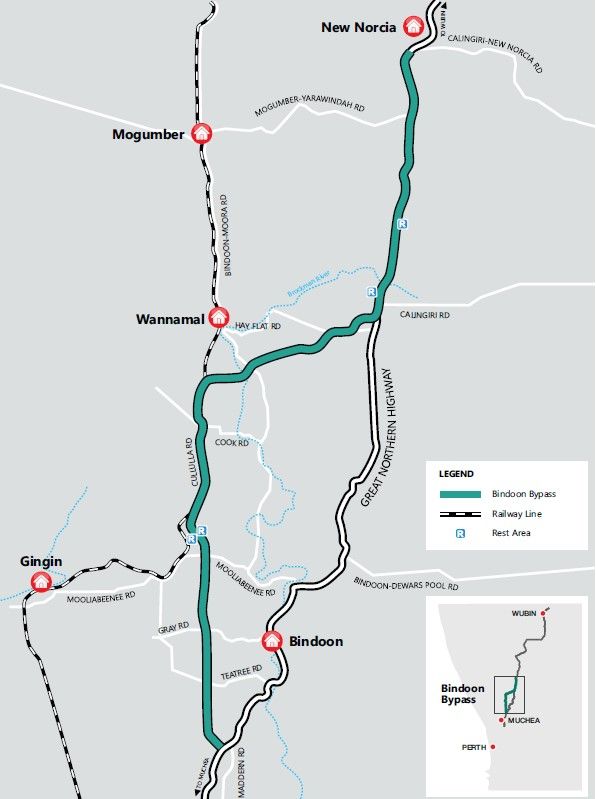 The Bindoon Bypass is a new 64km link between Chittering Roadhouse and New Norcia, bypassing the town of Bindoon to improve travel times, road safety and freight efficiency.
Triple road trains (53.5-metre trucks) can currently only get to Wubin through the Great Northern Highway from the north. This necessitates a pit stop and reconfiguration of shorter vehicle combinations, resulting in additional truck trips to Perth to deliver the extra trailer.
The Bindoon Bypass, when completed, will solve this difficulty by allowing triple road trains to travel the whole length of the corridor.
As part of this project, construction includes:
62 km of new highway west of Bindoon, connecting Chittering Roadhouse and New Norcia Bypass
2 km of improvements to the existing Great Northern Highway near Seven Mile Hill and connecting to the New Norcia Bypass
Connection to the new NorthLink WA Northern Section, which intersects with Brand Highway
Connections to the local road network through a mix of grade-separated and at-grade intersections
Overtaking lanes every 5-10 km
Four new rest stops for light vehicles and road trains
Benefits:
Increase freight productivity and efficiency
Shorter travel times through higher travel speeds
Improve safety and amenity for the local community of Bindoon
Support the growth in production across the mid-west and north-west of WA, which is increasing freight and transport along the corridor
Support Perth's population growth and economic growth in regional centres
---
SOUTHERN AUSTRALIAN INFRASTRUCTURE PROJECTS
1. Adelaide's North-South Corridor: $14.5 Billion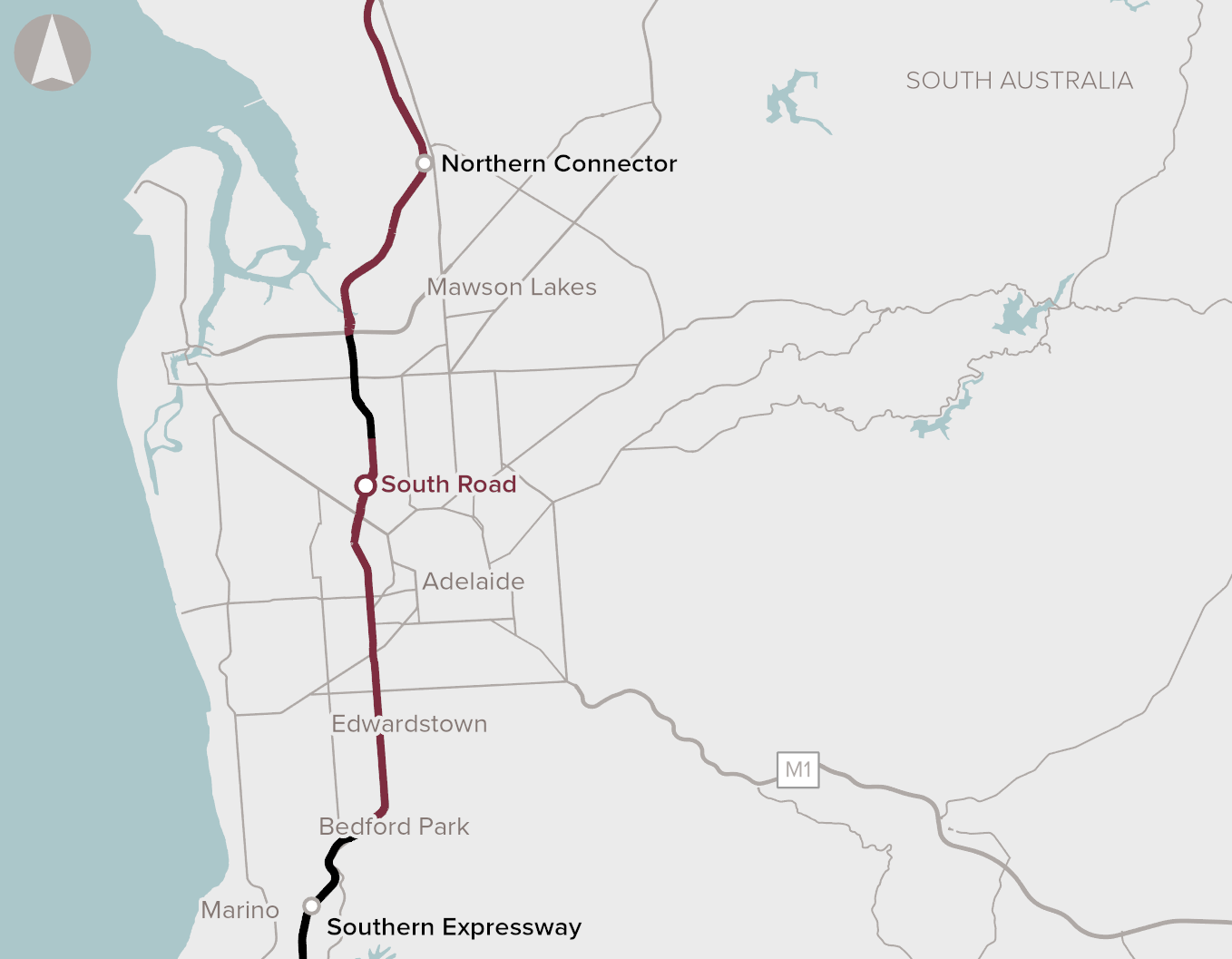 The North-South Corridor, which will span 78 kilometres between Gawler and Old Noarlunga and through the Adelaide CBD, will provide a dedicated non-stop highway for north and south headed traffic (including freight).
Sections that have already been contracted and were funded through a deal between the SA and Federal Governments include:
Southern Expressway ($407 million)
Darlington Upgrade ($620 million)
Torrens Road to River Torrens ($896 million)
Regency Road to Pym Street ($354 million)
South Road Superway ($842 million)
Northern Connector ($867 million)
Northern Expressway ($564 million)
The Torrens to Darlington (T2D) section is to be delivered in two stages:
Stage One: ANZAC Highway to Darlington
Stage Two: River Torrens to ANZAC Highway
---
2. Gawler Rail Electrification Project: $615 Million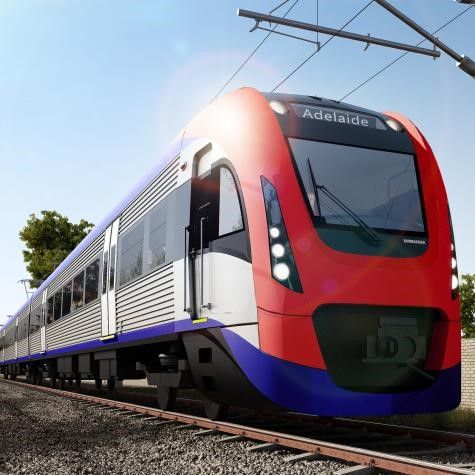 The Gawler Rail Electrification Project (GREP) will include the upgrade and electrification of the rail line between Salisbury and Gawler, the installation of new a signalling system and related equipment.
The project, which is being carried out by the Department of Planning, Transport and Infrastructure (DPTI), will see the electrification and modernisation of the Adelaide - Gawler rail line, with more than 8km of track within the Town of Gawler, resulting in a faster, cleaner, and more reliable service. When linked with the current Seaford line, a 78-kilometre electric network will run from Gawler to Seaford.
Project includes:
Electrification of the Adelaide - Gawler rail line and Dry Creek Railcar Depot which includes masts, gantries and overhead wiring system
New signalling system
Pedestrian level crossing enhancements
Fencing of the rail corridor
Acquisition of additional three-car electric trains (introduced in stages following completion of the electrification works)
Benefits:
Support increased capacity and future growth for development along the rail corridor and in northern Adelaide
Clean and green high-performance trains deliver an improved customer experience
Better reliability and safety
Encourage people to take public transport and leave their cars at home
---
3. Joy Baluch Bridge Upgrade: $200 Million
The Joy Baluch AM Bridge, located near Port Augusta, is a significant link in the National Land Transport Network, allowing access over the Spencer Gulf for commuter, commercial, and freight vehicles in South Australia's northern region. It's also a major tourism hub for the Eyre Peninsula, northern South Australia, and farther afield.
The bridge's duplication will improve road safety and efficiency for all users, as well as freight productivity and, most crucially, the route's durability.
It will also address present bridge speed restrictions as well as the safety of pedestrians and cyclists crossing the bridge.

---
4. Port Augusta to Perth Corridor: $125 Million
The Eyre Highway, Great Eastern Highway, and Coolgardie-Esperance Highway will make up the Port Augusta to Perth Corridor, which will span 2,388 kilometres. The project aims to enlarge, strengthen, and realign key portions of the corridor to make it safer for freight and passenger vehicles to travel between Perth and Adelaide. After originally being allocated after 2021-22, funding is likely to flow immediately and over the next two financial years to facilitate the start of work.
In addition to the Eyre Highway, the Eyre Peninsula Network project would upgrade highways around the Lower Eyre Peninsula to accommodate future freight flows in the region.
Upgrades along this section of Eyre Highway and the Lower Eyre Peninsula roads could include:
New overtaking lanes
Road widening and shoulder sealing
Rest areas for improved fatigue management
Pavement rehabilitation
Safety measures such as audio tactile line marking, improved signs and hazard protection
Intersection and roundabout improvements
Bridge upgrades
---
NORTHERN TERRITORY INFRASTRUCTURE PROJECTS
1. Project Sea Dragon: $1.45 Billion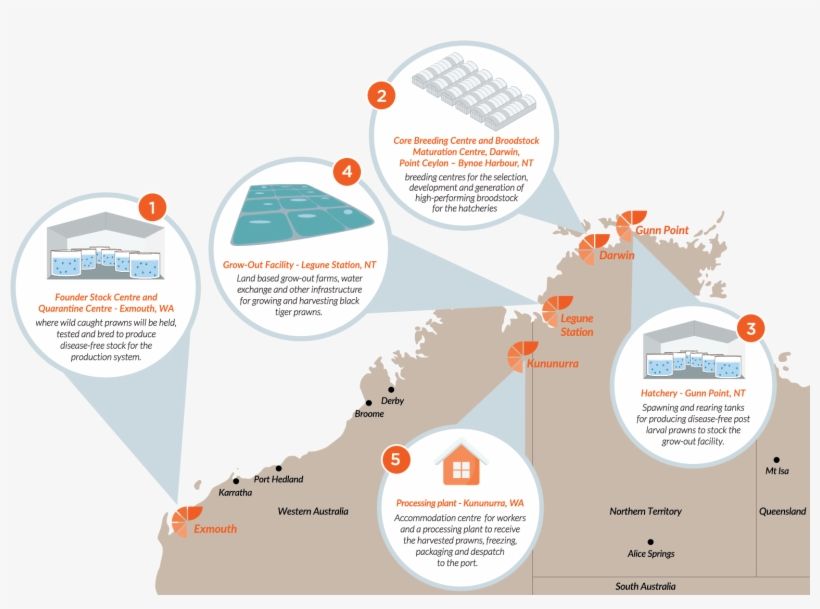 Project Sea Dragon aims to build sophisticated prawn aquaculture production facilities at Legune Station, about 130 kilometres north-east of Kununurra, Western Australia.
With substantial infrastructure development set to commence in 2019, Project Sea Dragon is expected to support up to 1500 jobs and strengthen the Territory's developing aquaculture industry.
The first stage of Project Sea Dragon will include a new power station, a water treatment plant, three new farms totalling 1120 hectares, a seawater channel and pump at Forsyth Creek, a freshwater channel running from a station dam, the main discharge channel for Alligator Creek, as well as general accommodation buildings, offices, and workshops, according to the Northern Land Council.
The full project will be a staged development incorporating a series of facilities across northern Australia including:
Founder Stock Centre (FSC) and Quarantine Centre at Exmouth, WA
Bynoe Breeding Facility (BBF), that includes a Core Breeding Centre (CBC) and a Broodstock Maturation Centre (BMC), at Bynoe Harbour, near Darwin, NT
Hatchery to be built at Gunn Point, near Darwin, NT
Grow-out Facility (GOF) to be built at Legune Station, NT, approximately 120 km from the town of Kununurra, WA
Processing facility to be built approximately 15 km north of Kununurra, WA
---
2. Central Arnhem Road Upgrade: $230 Million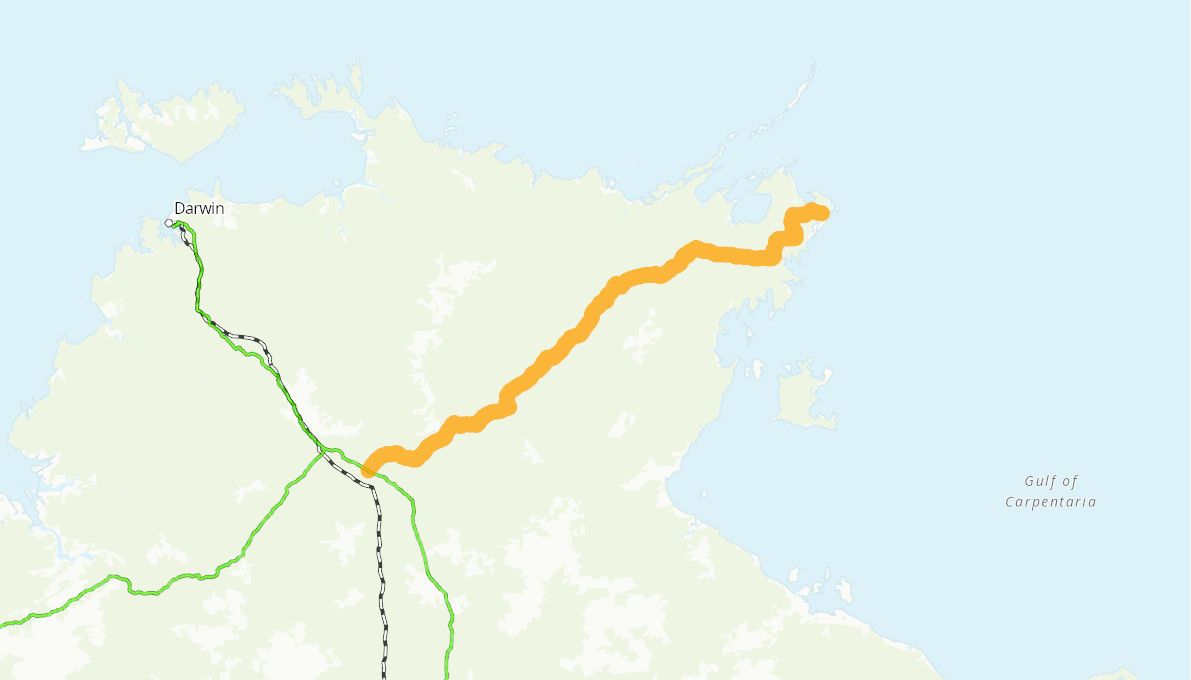 The Northern Territory Government is aiming to upgrade Central Arnhem Road in the long run.
The 685-kilometre Central Arnhem Road corridor connects Nhulunbuy, the regional capital, to the Stuart Highway.
It provides services to a significant number of Indigenous communities and serves as a major tourism and freight corridor for the mining and pastoral sectors.
The Australian Government has allocated $180 million and the Territory Government has committed $50 million for renovations starting in 2019.
The majority of the Central Arnhem Road is now unpaved. As a result, during the wet season, most of the Indigenous settlements served by the Central Arnhem Road are cut off. Furthermore, the status of the Central Arnhem Road raises significant equity concerns. Arnhem Land is home to Australia's single biggest Indigenous population, and Nhulunbuy is the Northern Territory's only large regional centre without a sealed road connection to the National Network.
The upgrades will improve:
Connectivity
Flood immunity
Road safety
Travel time
Accessibility.
The upgrades will provide opportunities for:
Economic development for the region
Aboriginal employment and business supplier use.
---
TASMANIAN INFRASTRUCTURE PROJECTS
1. Bridgewater Bridge Replacement: $576 Million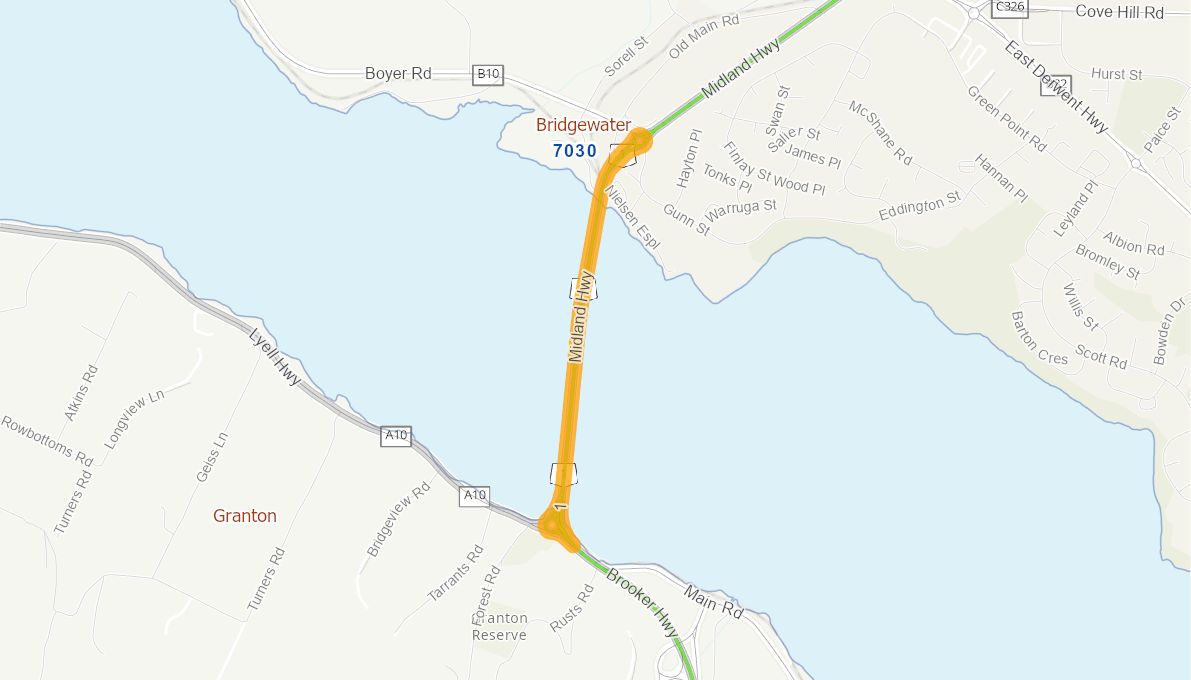 The Australian and Tasmanian governments have pledged $576 million to a new Bridgewater Bridge as part of the Hobart City Deal. This is Tasmania's largest ever expenditure in a single transportation infrastructure project. The project will construct a new bridge on the Midland Highway over the Derwent River at Bridgewater.
Travel will be safer and more efficient as a result of the new bridge. It will link local communities, increase open space, and alter how people commute between the state's north and south. The project will improve Hobart's travel times and connectivity, as well as vehicle safety. The new bridge will also improve freight transportation efficiency and lower costs, as well as boost regional and local economic development in Tasmania.
Construction will begin in earnest in 2022, with the new bridge set to open by the end of 2024.